Shootings down 70 per cent and knife crime reduced as 'disruption' team targets OCGs
Gun crime in Salford has been drastically reduced by more than 70 per cent since the introduction of a dedicated anti-gang taskforce to disrupt the activity of the city's organised criminals two years ago.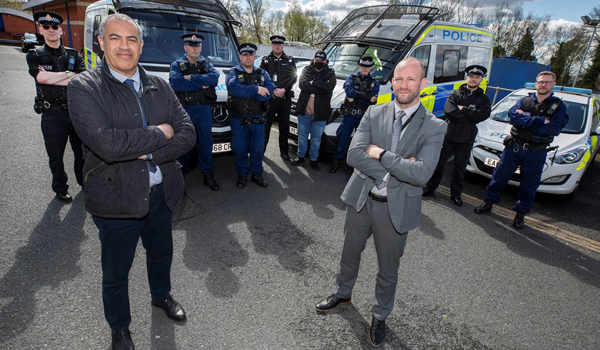 The Operation Naseby disruption hub was formed in April 2020 by Greater Manchester Police (GMP) to "get under the skin" of local gangs after 25 firearms discharges had been recorded in the previous 12 months.
The "prolific impact" of the operation has seen 279 arrests, 297 vehicle seizures, 118 house searches and the recovery of nearly 50kg of drugs, and shootings are now down by 72 per cent, with just seven recorded in the past year and 15 in the year before.
Originally intended to be a standalone "six-week blitz" on organised crime, funding is now expected to see the taskforce "continue to the foreseeable future", said the force.
Detective Chief Inspector Rick Thompson, head of GMP Salford's proactive policing, said: "After two years of Operation Naseby, it's plain to see the prolific impact our tireless disruption team have had in all corners of our city since it was introduced two years ago.
"When the taskforce was formed, it was on a short-term basis with the simple aim of getting under the skin of organised criminals and doing all we could to be out there on the streets stopping and searching suspects, their homes, the vehicles they were in and seizing anything of criminal value.
"That's seen us intercept and disrupt the type of activity organised crime groups were engaging in that was seeing us suffer the high rates of shootings we were seeing two years ago; now we're taking vehicles, drugs, and weapons from these individuals and arresting those suspected of being involved.
"We've been able to hugely increase our understanding of these groups – with over 500 intelligence logs being submitted – but I must stress that a great deal of information we receive comes from the public and thanks to the people of Salford we've have information that's led us to well over 100 house searches.
"Our enforcement action has produced staggering results but it's still seven shootings too many, and our commitment now is to focus our work with partners and local neighbourhood teams into proactively intervening at an earlier stage with young people who may be at a risk of later being involved in organised crime."
Det Chief Insp Thompson added:  "This work is vital in stamping out future generations of serious criminality, but also in reducing the ongoing concerns around violent crime, drug use, and anti-social behaviour in their communities that affects the people we serve on a daily basis."
The team of more than 30 officers is part a multi-agency response to organised crime groups, spearheaded by experienced detectives, 'complex safeguarding' officers, neighbourhood patrols and pursuit-trained officers, together with partners from Salford City Council.
"Thanks to our offensive on criminals, weapons taken off the streets include a loaded handgun, a shotgun, two loaded crossbows, a number of machetes and dozens of other knives and bladed articles," said GMP.
"Offenders have been sentenced to more than 66 years of custodial sentences, with many others being recalled to prison or receiving criminal behaviour orders requiring them to continue abiding by strict conditions following their release from custody."
Most recently, drug dealer Zach Trott, 26, of Ellesmere Street, was jailed last week for two years and four months after anti-gang officers caught him last summer just months after pursuing him in another chase where he was detained and £3,000 worth of cannabis discovered.
A Bolton man was also jailed earlier this month after being stopped by covert Operation Naseby officers patrolling just outside the Salford border when they spotted a suspicious vehicle in July 2020. Thirty-one-year-old Myles Hindley of New Street, Blackrod, was sentenced to two years in prison after he was found to be driving a £30,000 Range Rover that had been stolen from Bury less than six weeks earlier – despite him claiming that it was a hire car.
As the operation continues to "drive a wedge between offenders and criminality", GMP said detectives at Swinton CID were "keen to enhance their proactive approach" by intervening at an earlier stage when young people are involved in less-organised crime in the form of urban street gangs.
"Along with the recent re-launch of the city's multi-agency Project Gulf, we aim to ensure our approach to diverting younger people away from lower-level gang crime at an early stage will prevent future generations of organised criminals operating in Salford – by protecting the exploited and pursuing the exploiters," the force added.
"This work has already begun with school engagement officers interacting with young students in the city's schools and colleges, and we are determined to work closely with local partners in education to steer more children away from a life of gangs and violence."
GMP said knife crime continues to be one of the main priorities in each of the ten Greater Manchester boroughs, and reported offences are down in Salford in the past year.
It added: "Our commitment to maintaining the crackdown on weapons, criminals, drugs and their assets is hoped will continue to drive down violent crime on our streets even further as our work sustains without relent.
"We've been able to conduct well over 100 house searches in the last year thanks to intelligence we have received from the public, and we continue to urge anyone with information or concerns to contact us."