Senior officials demand harsher punishments for attacks on officers
Penalties for assaulting police officers need to be increased dramatically if they are to act as a deterrent and reduce the growing number of incidents, according to officers and politicians.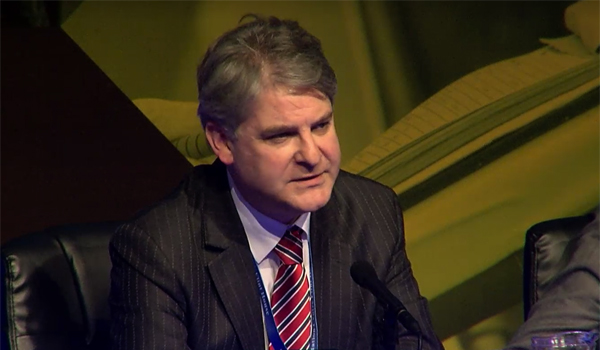 Delegates at the 2018 Police Federation of England and Wales's annual conference, with the theme of Protecting the Protectors, were shown a series of video interviews with officers who had suffered brutal assaults while carrying out their duties.  
Since last year's conference, a series of parliamentary debates and Bills have seen the penalty for assault on emergency services workers double from six to 12 months, although this is a long way short of the 24 months that had been campaigned for.  
Philip Davies, Conservative MP for Shipley, said the key issue was the way in which those who have carried out assaults are treated by other parts of the judicial system. 
"A new law will help but we also need the Crown Prosecution Service (CPS) to properly charge people with the right offence," he said. "In many instances, the CPS will undercharge in order to be sure of getting a conviction. This means the severity of the offence against the officer that has been assaulted is not recognised. This needs to change." 
One of the video interviews featured West Yorkshire PC Laura Gargett who was working a Christmas Day shift and had just arrested a woman for assault who began to struggle as she was being led to a police car. 
"I was trying to stop her from hitting me with the handcuffs, but at some point, she managed to get between my legs and tried to bite my inner thigh – so I moved out the way of her, and she swung round and booted me with such force that I went backwards at quite some speed and quite some distance," explained PC Gargett. 
"I tried to get up but my body felt like a lead weight. I could feel warmth over my face and knew I was bleeding and that she had done some damage. I was hoping it wasn't too bad. On Boxing Day, I had two black eyes and a very swollen nose so I had to tell my two children what happened. They were very upset. Now when I leave for work each my kids say: 'Mum, please don't die.' 
"It's a known risk of the job, something we all face when we go out, but there is a lack of legislation in place that would support frontline staff and help prevent these attacks from happening."  
The woman who attacked PC Gargett received a suspended sentence that required her to wear a tag for 16 weeks. She was also ordered to pay compensation of £150.  
West Yorkshire Police Federation chair Nick Smart said such experiences were all too common: "We all have colleagues that have been injured. It goes on day after day after day. It is frustrating to have to remind people what goes on because we are campaigning for something that should already be in place. People are doing what they think they can get away with." 
Mr Smart added that many members feel the double frustration of being assaulted and then having to deal with the lack of legislation to provide them with justice. 
"Laura was stamped on and knocked unconscious. We have all been to incidents where a person has been killed with a single punch. It is only through the grace of God that she was not more seriously injured. It is just offensive for that heinous incident to result in that sort of punishment." 
In the past year, the number of assaults on West Yorkshire Police officers increased by 39 per cent.  
"In any other walk of life that would be a national outcry," said Mr Smart. "We have worked out that, over the course of a year, our officers have a 70 per cent chance of suffering some form of assault. On average, 21 officers are being spat at each day." 
Mr Davies said it was "great" that the sentence has been doubled, but it needs to go further. 
"We need to put PC Gargett in front of as many MPs as possible and ask them if they still think people are not being sentenced to long enough," he added. "We've got it up to a year; we need to get it up to two years and then to five years. I won't be satisfied until there are properly severe sentences for people who abuse and assault police officers, and I think the vast majority of the country would agree with that." 
Holly Lynch, Labour MP for Halifax and a driving force behind much of the parliamentary activity that has taken place in the past year, apologised to the conference for the "glacial" pace of progress, but noted that for the Government to go from saying that emergency workers should not be treated any differently to members of the public to saying that additional legislation is required, all in the space of just 18 months, was actually rapid progress by the standards of the Government. 
Last September the maximum penalty for the most serious cases of animal cruelty was increased from six months to up to five years. The RSPCA applauded the move, claiming it would act to "deter people from abusing and neglecting animals", but, while supporting the new legislation, Mr Smart said such a move supports the notion that people care more about cats and dogs than they do about police officers. 
Among the other measures being deployed to offer greater protection to officers are spit hoods, body-worn video cameras and increased rollout of Taser. 
Last week, South Wales Police Chief Constable Matt Jukes announced plans to increase the number of officers carrying Taser from the current level of ten per cent to "up to 100 per cent" to provide officers with greater protection from assault, especially when dealing with individuals armed with knives. 
However, during the conference West Yorkshire Police Chief Constable Dee Collins said that while the legislation to enable this to be done is already in place, there needs to be a conversation about the change of use.  
"When Taser was first introduced, it was as a less-lethal alternative for firearms officers. If we are now saying its role is going to be one of personal protection, that is something all the chief constables need to get together and talk about."