Senior officers back suspended chief constable from calls for dismissal
Former colleagues have defended Police Scotland Chief Constable Phil Gormley from demands that he give up his job.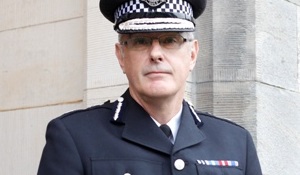 Former colleagues have defended Police Scotland Chief Constable Phil Gormley from demands that he give up his job. Mr Gormley remains on special leave while allegations that he bullied junior officers are examined by the Police Investigations and Review Commissioner (PIRC). Calls for his resignation have been made after it emerged the Scottish Police Authority (SPA) planned to let him return to work last November. But the SPA's decision was blocked by Justice Secretary Michael Matheson, who explained his intervention last week by highlighting the SPA's failure to follow due processes. The SPA had not informed the PIRC or senior officers in Police Scotland of Mr Gormley's imminent return. Now, senior officers who have previously worked alongside Mr Gormley have leapt to his defence. Norfolk Police Chief Constable Simon Bailey, who was Mr Gormley's deputy, said he "was an excellent chief and leader who has made a real difference" during his policing career. His comments were echoed by Charlie Hall, chief constable of Hertfordshire Constabulary, who described Scotland's policing leader as "supportive and inclusive". Former Gloucestershire chief constable Suzette Davenport, who served alongside Mr Gormley during his time at West Midlands Police, added that he was "hugely committed to delivering the best possible service with a positive value set". Former Justice Secretary Kenny MacAskill has called for Mr Gormley to "depart with dignity" to resolve a supposed leadership crisis in Police Scotland. The former MSP said there were "serious questions" over Mr Gormley's conduct given the allegations of bullying against him. The Public Audit and Post-legislative Scrutiny Committee published a press release drafted by the SPA that would have been sent out had Mr Gormley been allowed to resume his duties. The release said it was in the "interests of the service, the public, and best value" that Mr Gormley return to work. It added that the "necessary steps" had been taken to ensure arrangements were in place to support the welfare of all parties involved. Former SPA chair Andrew Flanagan and ex-chief executive John Foley will appear before Holyrood's audit committee on January 25. The SPA will decide on whether to extend Mr Gormley's leave on the same day.