Screening technology to protect terrorist 'soft targets'
Security company G4S is to use people screening technology at major UK events to protect against the threat from concealed weapons and explosives.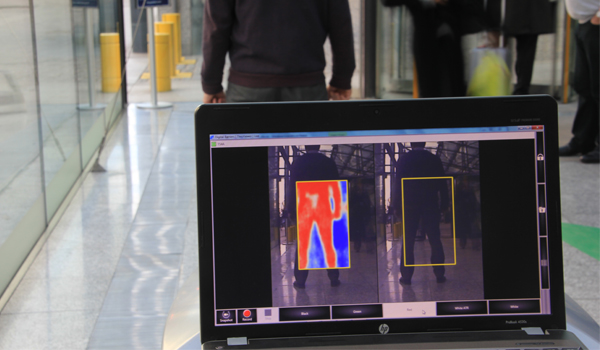 Security company G4S is to use people screening technology at major UK events to protect against the threat from concealed weapons and explosives.
G4S says it is a "unique way to secure event venues", significantly enhancing traditional security measures such as metal detectors and baggage checks.
The current terrorism threat to the UK from international terrorism is assessed as severe. That means an attack is highly likely.
The ThruVis screening system from technology specialist Digital Barriers can detect potential threats concealed under clothing without disrupting the flow of people.
Eric Alexander, managing director at G4S Events, explained: "ThruVis provides a higher level of protection and deterrence while reducing queue times, improving the visitor experience and, because it's a passive camera, it does so without any issues of safety or privacy. Given recent events we see this as an inevitable additional security measure that will rapidly become commonplace."
ThruVis is a highly-sensitive camera that is mobile, discreet and rapidly deployable. It has been used effectively by government agencies around the world and is now being made available in the wider event space for the first time.
Zak Doffman, chief executive officer of Digital Barriers, said: "Our partnership with G4S will help to secure public spaces and event venues globally, providing an additional layer of security that is not in place today. ThruVis has already been used around the world by government agencies to protect the public from acts of terrorism, now we hope to extend this to help protect the public from attacks on so-called soft target locations."
G4S secures millions of people annually at events such as the British Grand Prix at Silverstone, The Open golf championship at St Andrew's and British Summer Time Hyde Park, as well as securing events at many large venues, including London's ExCeL and the O2.
Global Risk Insights, specialists in political risk analysis, says attacks against soft targets such as these are attractive because they have operational characteristics that make them vulnerable and easy to exploit, thereby ensuring higher success.
"Primarily then, terrorists choose soft targets because they are easy to attack and do not require a long planning cycle," it says.
Speaking at a briefing in London earlier this year, Metropolitan Police Service Assistant Commissioner Mark Rowley, national lead for counter terrorism, revealed that the number of terrorism-related arrests in Britain hit record levels last year and there was evidence so-called Islamic State was "trying to build bigger attacks" globally, and the UK was among its targets.
The Home Office is investing up to £150,000 in innovation projects to develop a metal detector that works in fast parcel depots.
It says the aim is to develop techniques for detecting the metal in threat items such as firearms, their components and ammunition.