Scott Chilton named as preferred candidate for Dorset chief constable
Dorset Police Deputy Chief Constable Scott Chilton has been chosen as the preferred candidate for the position of chief constable of the force.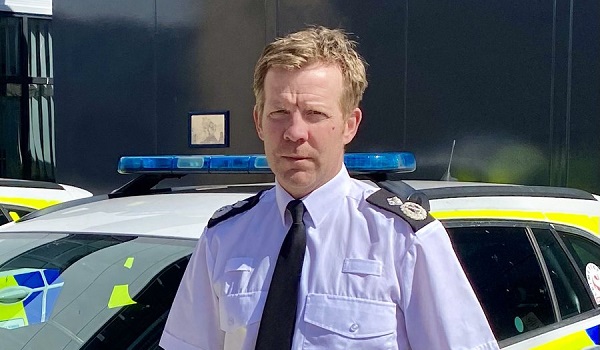 The decision was announced by police and crime commissioner (PCC) David Sidwick, but will be subject to a confirmation hearing by the Dorset Police and Crime Panel taking place in August.
If confirmed, he will take over the role from James Vaughan, who announced his decision to retire from the force earlier this year.
Mr Sidwick said: "I have got to know Scott well over the past weeks since I took up office as PCC and I know he is an outstanding officer, who brings with him a wealth of experience from his extensive policing career.
"The decision by the selection panel was unanimous. He is absolutely the right person to lead the force into a new era and I look forward to working closely with him as I begin delivering my new Police and Crime Plan which will set out how I intend to build on our successes, deliver an outstanding service and turn Dorset into the safest part of the country."
Mr Chilton was appointed as deputy chief constable last year, following a role as assistant chief constable (crime, criminal justice and intelligence) at Hampshire Constabulary, where he was strategic lead across all investigations teams, custody, the wider criminal justice system and intelligence.
His appointment as deputy was made against a strong field of applicants, and with a recognition that the current chief constable was nearing retirement, and the successful candidate had the potential to step up in rank in the relatively near future.
He joined the Hampshire force in 1992, where he worked his way through uniformed policing before joining CID in 1996 and spending the next 16 years as a detective progressing through the ranks to chief superintendent.
Mr Chilton said: "I am both humbled and privileged to have been selected by the police and crime commissioner as the preferred candidate to be the next chief constable of Dorset Police. I look forward to appearing before the Police and Crime Panel on August 12.
"Having been a police officer for 29 years I know the dedication and commitment shown daily by our officers, staff and volunteers and I am honoured that I will have the opportunity to lead Dorset Police as the chief constable.
"I look forward to working with the police and crime commissioner to ensure we continue to provide the best possible service to our communities in Dorset."