Scotland agrees to give officers biggest police pay rise in more than 20 years
Police Scotland officers are to receive an immediate wage increase of 6.5 per cent as well as additional pay thresholds and clearer guidelines on overtime pay.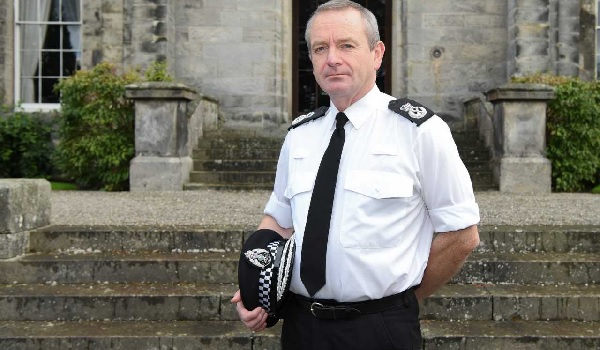 The Scottish Police Authority (SPA) said the pay award will see a salary increase of £2,300 for a mid-point constable and the equivalent of an additional £6,000 in pay over the next 31 months.
It will be backdated to September 1 and applies until March 31, 2021 for all officers below the rank of assistant chief constable. Future pay awards will align with the financial year.
Police Federation of England and Wales chair John Apter said the increase risks "rubbing salt in the wounds of officers in England and Wales", who received just a two per cent pay rise earlier this year.
In addition to the immediate increase, the agreement will also address issues of inequality and anomalies in relation to pay progression in Scotland.
Chief Constable Iain Livingstone said the increase represents a "significant and deserved outcome" for his officers.
He added: "I'm also pleased that progress is being made in negotiations on harmonising pay and reward for police staff.
"Every single day, our hard-working officers and staff are keeping people safe and demonstrating the highest levels of leadership and public service.
"They've done this consistently since the creation of Police Scotland, clearly showing that they are our most valued asset, so it's only right that their dedication and commitment is recognised appropriately."
As part of the agreement, from April 2020 the bottom point on the sergeants and chief inspectors pay scale will be removed and newly promoted officers will enter the scale at a single entry point.
And an additional £291 will be added to the top point on the chief inspectors' pay scale.
Chair of the SPA Susan Deacon said: "I am pleased that through constructive dialogue we have reached agreement on an investment in pay that recognises the significant and valuable work that our police officers do in keeping the people of Scotland safe.
"Police officers represent a substantial portion of the police workforce and budget. This deal over a 31-month period provides both individuals and policing with certainty as we plan and implement the further transformation of policing to meet the needs of a changing Scotland.
"I am also mindful of the importance of the work which is underway with the Trade Unions to modernise pay, reward and conditions of all police staff. I am delighted that positive progress is also being made in this area."
Competency-related threshold payments – scrapped in England and Wales following the review of pay and conditions by Sir Thomas Winsor – will also be incorporated into a new top increment for each federated rank pay scales.
Between November 1 and March 31 next year, officers who attend court from night shift will be able to claim overtime on a minimum of one hour, and where the minimum 11 hours of rest was not afforded between tours of duty.
The Scottish Police Federation has said it will publish a more detailed circular shortly, which will lay out the precise details of what the agreement means in full.
Justice Secretary Humza Yousaf added: "This strong deal for Scotland's police officers is an important recognition of the vital work they do to support safer, stronger communities.  It also reflects the positive relations between police officers and employers in Scotland where we have retained collective pay bargaining.
"The Scottish government has worked closely with the SPA and Police Scotland to finalise this two-and-a-half year deal, which puts more cash into officers' pockets while giving them and their families certainty.
"The progress made towards securing a milestone agreement on police staff pay and reward harmonisation is also very welcome. I am grateful to all those involved in the negotiations, as well as the commitment of all police staff and officers who are working to ensure Scotland's police service is amongst the best in the world."
Mr Apter said: "Whilst this is positive news for our colleagues in Scotland it is hard to stomach for their colleagues in England and Wales. For the second year running the Government at Westminster chose to ignore the recommendations of the Pay Remuneration Review Body awarding a miserly increase that amounts to around £2.50 extra per week.
"It goes without saying that officers certainly don't do the job for the money, but it is unacceptable to see colleagues struggling to meet ends meet at the end of every month – the Scottish government has shown its support for policing, they have delivered more than warm words which is what is needed from our government.
"Officers are sick of pleasantries from politicians, which in reality mean nothing. For a government to show such contempt for those who put their lives on the line for the public is shameful."