Scenes of violence as Extinction Rebellion target rail network
British Transport Police (BTP) has increased patrols on the London Underground and at rail hubs throughout the capital and made eight arrests after Extinction Rebellion activists began targeting the transport network this morning (October 17).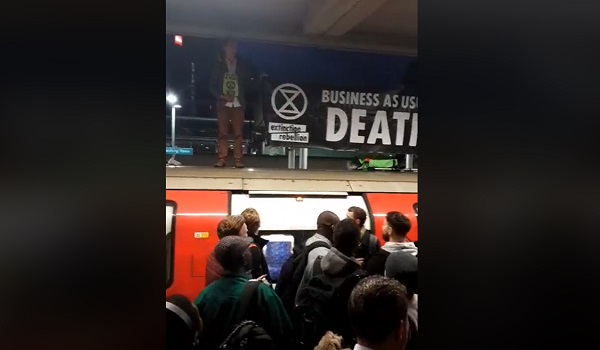 BTP officers were called in shortly after 7am after simultaneous action took place at Stratford, Canning Town and Shadwell stations. Protesters obstructed Jubilee Line and Docklands Light Railway services by climbing on top of services and gluing themselves to the trains.
The actions prompted anger among delayed commuters, resulting in violent clashes.
In film footage shared on social media, two men can be seen standing on top of a Tube carriage at Canning Town as commuters surround the train jeering and shouting for them to get down. A drink is then thrown at the protesters, before a man on the platform tries to climb up and pull them down.
One activist attempts to kick the man away but is then pulled to his knees and dragged down in the crowd.
A man filming the scene on behalf of Extinction Rebellion is also attacked when the crowd realises he is connected to the protesters. He is later seen on film saying he was "beaten by a mob of people" and kicked in the head.
Extinction Rebellion spokesperson Robin Boardman said none of the activists wanted to "inconvenience ordinary people".
He added: "That's why we're doing this in the morning when it will impact business as usual, and not in the evening, when people want to get home to be with their loved ones."
However, BTP Assistant Chief Constable Sean O'Callaghan said the force was concerned that some activists might still return later in the day: "Despite our countless warnings, we are frustrated that Extinction Rebellion put people at risk to obstruct services on London's rail network.
"Those who obstructed services are in custody and will be dealt with robustly. This type of action is completely at odds with what Extinction Rebellion are campaigning for and we will continue to urge them to not target any rail network.
"However, it was also concerning to see that a number of commuters took matters into their own hands, displaying violent behaviour to detain a protester at Canning Town.
"Understandably, the delay to passengers' journeys would have been annoying, but this level of response was unacceptable. We are now investigating this morning's events at Canning Town in its entirety. It is important that commuters and other rail users allow the police, who are specially trained, to manage these incidents.
"Unfortunately, there is still a risk that Extinction Rebellion will target the rail network during this evening's peak. We will continue to have extra officers on patrol and will work to disrupt any potential criminal action before it happens."