Salisbury nerve agent attack: 'We couldn't have policed aftermath without your help'
Wiltshire Police's chief constable has applauded the "very best of UK policing" for its mutual-aid response to the Salisbury nerve agent attack.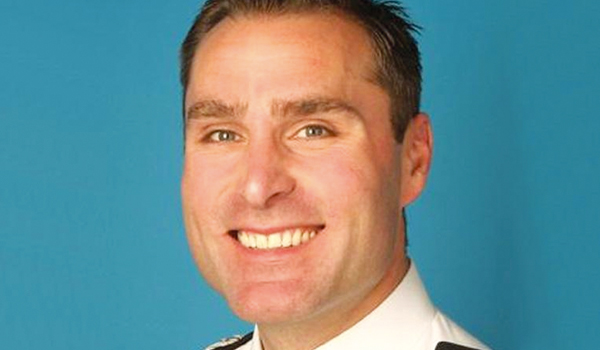 Kier Pritchard said without the "exceptional" assistance of 1,230 officers from 40 forces "the length and breadth of England and Wales" – Wiltshire Police would not have been able to resource the "unprecedented incident" on its own. 
 
He described how his "world changed" on March 5 – the first day in temporary charge of the force – when policing in the city was catapulted from "local to global in a matter of hours".
It had come 24 hours after an "uncertain" incident that left Russians Sergei and Yulia Skripal and Wiltshire officer Detective Sergeant Nick Bailey fighting for their lives when father and daughter were found unconscious on a city centre bench. All three have since been allowed home from hospital.
Reflecting three months on, Mr Pritchard spoke with "pride" of the "massive effort" put in by more than 140 of his own officers on duty at the height of the operation, coupled with the countrywide support of colleagues who have helped shore up a decontamination clean-up.
For the country's counter terrorism policing network, it has been a "painstaking" operation involving human and vehicular examinations because of the incident's contamination issues.
The chief constable found himself coordinating representatives from 26 police and national partners to deal with something that required a "substantial" response "both here in Wiltshire and around the world".
He said on Monday (June 4): "The Salisbury incident has impacted on every single member of staff in Wiltshire.
"It is something we simply would not have been able to resource on our own and it was vital that, through mutual aid, we were able to call on the support of 40 additional police forces.
"In total, we've had 1,230 officers from across the country assisting us with our responsibilities at the cordons in the city.
"This support has come quite literally from the length and breadth of England and Wales, from Northumbria to Devon and Cornwall, and Dyfed Powys to Norfolk.
"On behalf of everyone here at Wiltshire Police we wanted to express our gratitude and appreciation for all your hard work assisting us and the counter terrorism network."
To date 250 detectives, drawn from across the CT network, have been involved in the attempted murder inquiry of the Skripals. Around 100 still remain in Salisbury.
Some 176 searches have been undertaken with more than 900 witness statements, and 4,000 hours of CCTV footage viewed.
Officers have sought to identify all pedestrians, cyclists and vehicles that travelled through the relevant area at the times in question. In total 14,000 vehicles and 2,500 pedestrians have been assessed and graded according to their significance. House-to-house inquiries have been completed at 379 addresses.
More than 2,300 exhibits have been recovered, of which 851 are stored at the Defence Science and Technology Laboratory. Detectives have carried out 190 examinations at the Porton Down laboratory.
Deputy Assistant Commissioner Dean Haydon, the Senior National Coordinator for CT Policing, said: "Clearly this is a very unusual case – both in its scale and complexity. We have said from the start that this investigation was going to take some time as we rigorously follow the evidence."
The city continues to recover from the incident and affected sites are being handed back once any decontamination work has finished.
Many UK-wide officers are being relieved of their duties on the majority of cordons as private security guards will now resource most of the remaining sites.
But Mr Pritchard stressed: "It is important that you are now able to return to your home forces and resume business as usual within your communities.
"We know that so many of you will have spent substantial time away from home over the past few months, and we want you to know that your dedication has not gone unnoticed.
"Not only is this something which we as a police force are incredibly grateful for, but we want you to know the general public feel the same way.
"We have both heard so many wonderful stories of police officers being welcomed by the people of Salisbury, with many examples of small acts of kindness shown to those working long hours on the cordons.
"Quite simply, the support you have all provided has been exceptional and on behalf of Wiltshire Police we would like to publicly say a big thank you to you all."
His comments were endorsed by Wiltshire police and crime commissioner (PCC) Angus Macpherson who is calling on the Home Office to cover "all costs" incurred by the local force – expected to reach £7.5 million.
The PCC added: "The Government has already agreed to an initial special grant funding of £1.6 million covering our costs in the last financial year, and the policing minister Nick Hurd MP has recognised the ongoing costs to Wiltshire Police.
"I expect the additional costs incurred to be met in this financial year as well."
After revealing the financial costs, Mr Macpherson said the figure could still rise further.
On the day of the incident – March 4 – Mr Skripal, 66, and his 33-year-old daughter were taken to Salisbury District Hospital in a critical condition after coming into contact with the military-grade nerve agent Novichok.
Det Sgt Bailey was also admitted to hospital for treatment after being left in serious condition from exposure to the nerve agent.
He was part of an initial investigative response team that was uncertain of what they were dealing with.
And Mr Pritchard confirmed today that although wearing "appropriate equipment", including gloves, the officer had suffered "significant injury" at the Salisbury home of the Skripals.
"We now know that was the location where he suffered his exposure to the nerve agent", he told BBC Wiltshire.
He said the outpouring of support for Det Sgt Bailey – who briefly returned to work on one day last week just to see friends and police colleagues – had been "off the scale".
Mr Pritchard added: "He has received the best support possible and I'm looking forward to the day when I can shake his hand and welcome him back on duty."
The Salisbury incident may well define Mr Pritchard's suitability as to the permanent role of chief constable of Wiltshire.
And it has not put him off turning the 12-month temporary stewardship into a substantive role.
Asked about putting his name forward when the vacancy is posted, Mr Pritchard said: "My application for chief constable will be the first to land on PCC's desk."
Last month, MPs were given an update from national security adviser Sir Mark Sedwill, who admitted investigators have not yet identified who poisoned the former double agent and his daughter Yulia.
Up to 100g of the nerve agent Novichok – in liquid form – may have been used to target the Skripals, the head of the Organisation for the Prohibition of Chemical Weapons has said.
Ahmet Uzumcu said the amount used implied it was created as a weapon with the samples collected being of "high purity".
The UK government says the military-grade nerve agent of a type developed by Russia was used in the attack, although Moscow totally denies any involvement.
Police services in Salisbury have been facing major disruption as the multi-million-pound decontamination project got underway to clean-up the after-effects of the nerve agent attack.
The city's main police station – which shares its Bourne Hill office premises with Wiltshire Council – has been closed since the incident and Mr Pritchard admitted on Monday no date had been set for its reopening with "public safety" paramount.
But other areas of the city sealed off by investigating officers have now been released for decontamination.
The Maltings shopping area where the Skripals were found unconscious was closed to allow extensive decontamination work to be carried out and reopened on May 26.
Some £250,000 has been given to businesses in the city affected by the aftermath, some of which saw revenues drop by 80 per cent.
Mr Macpherson thanked the people of Salisbury "for showing their resilience" while investigation and decontamination work were carried out.
He said local residents and the business community in Salisbury should also be "applauded for their attitude".