Safety of smart motorways to be reviewed
An all-party parliamentary group is to review the safety of 'smart motorways' to determine whether they are more dangerous for drivers and other users than traditional motorways.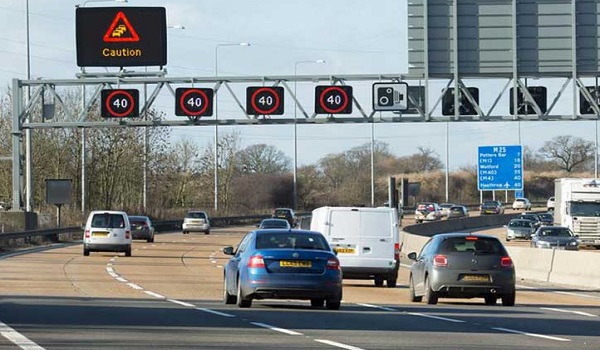 Introduced in England in 2014, smart motorways aim to keep traffic moving by converting the existing hard shoulder into an 'active' fourth lane when required and controlling speed limits. Smart motorways feature emergency pull-ins, or refuges, should a vehicle need to stop, although these can be some distance apart.  
A recent RAC survey found that most road users did not know what to do if they broke down on a smart motorway. 
Chaired by former transport minister Sir Mike Penning the review is being launched just weeks after police expressed concerns that the roll-out of smart motorways was making it more difficult for them to catch dangerous drivers.  
Speaking at the National Roads Policing Conference last month, David Blundell, who leads on roads policing for the Police Federation of England and Wales (PFEW), said: "The difficulty with smart motorways is that they are difficult for the police to operate on, there's no hard shoulder, so where do we safely stop another motorist if they have committed an offence or we want to give them some advice? 
"The answer is we can't and we have to wait miles and miles and miles until we're able to do that. There are lots of questions that need to be asked." 
Highways England said: "Smart motorways are good for drivers… and evidence proves they are as safe as traditional motorways, which are already among the safest roads in the world." 
However, its own study, Highways England, found that one in five drivers ignored the warning red cross that appears above a lane which needs to close because of an obstruction, which could easily lead to an accident, particularly where rescue workers are operating.  
The all-party parliamentary group will also look at measures to keep vehicle recovery operators safe while working on smart motorways and other UK roads following a number of fatalities. 
PFEW chair John Apter also warned of the potential dangers presented by the motorways. 
"The motorway is a hostile environment to be on out of the vehicle. Tragically, we see more people killed who have been involved in a relatively minor collision who get out their vehicle on the hard shoulder and are hit," he said. 
"We have police officers who have been killed or have been seriously injured when they stop on the hard shoulder. Smart motorways must take all of that into account as it does cause a greater risk."