Rounded-tip knives could reduce violent crime
Replacing pointed-tip kitchen knives with rounded blades could help reduce knife crime and prevent serious injuries within the home, according to research at De Montfort University Leicester (DMU).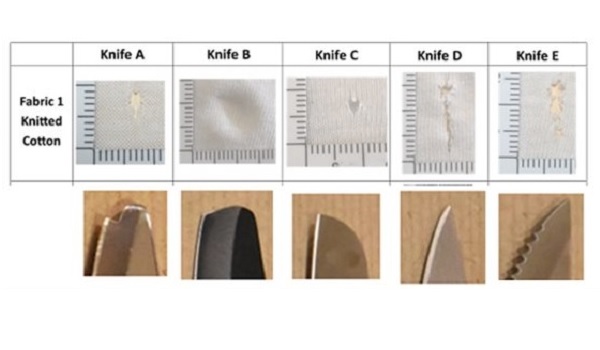 In a study led by senior lecturer in Forensic Science at DMU, Leisa Nichols-Drew, five kitchen knives – each with a different type of blade tip – were used for 'stab tests' on items of clothing, to examine the damage caused by each knife.
In collaboration with DMU's Dr Rachel Armitage and Dr Kevin Farrugia, University of Leicester's Professor Robert Hillman and Northumbria University's Dr Kelly Sheridan, Ms Nichols-Drew conducted 300 'tests' using a single downward stabbing motion on four garments, including a t-shirt, a pair of denim jeans, a long-sleeved jumper and a faux leather skirt – all made from different materials.
The five knives used for the experiment included: a blade with an 'r-shaped' tip; a blade with a rounded tip; a blade with an asymmetric tapered tip known as a 'sheepsfoot'; a traditional pointed-tip blade; and a serrated-edged blade with pointed tip.
The results revealed significant differences between the stab hole size and shape, depending on the design of the knife, with all but the rounded tip causing some form of damage.
In fact, the rounded blade did not pierce any of the four fabrics whatsoever, leading researchers to call for conventional pointed-tip knives to be replaced with rounded-tips to minimise the risk of kitchen knives resulting in injuries.
"Our research suggests that there is an opportunity for crime reduction by swapping pointed-tip knives for rounded blades in the kitchen," explained Ms Nichols-Drew. "A knife that can be used safely and effectively at home without the possibility of accidental injury minimises the risk of it being used as a potential weapon."
More than 5,000 people were treated by the NHS in 2018/19 due to assault by a sharp object – a two per cent increase on the previous year and 41 per cent higher than 2014/15.
"Bladed weapons are frequently encountered in violent crime offences but it's important to remember that knife crime doesn't just happen on the street – it can happen anywhere and it often happens in the home, within domestic altercations," said Ms Nichols-Drew.
"With the rounded knife causing no severance damage at all, it should be considered as a clear alternative to pointed-tip knife blades."
Ms Nichols-Drew hopes the findings will be of interest to investigators of knife crime offences, crime-reduction units, knife manufacturers and retailers, who all share the goal of identifying a safer alternative to conventional knife blade design.
"We want to remove the need for pointed knives. The majority of fatal injuries are caused by penetrative stabbings," she added.
Prior to joining DMU, Ms Nichols-Drew was a practitioner for the Home Office's Forensic Science Service, working on some of Britain's most notorious major crime cases. She later worked as a trainer for the police, judiciary and Crown Prosecution Service to improve their forensic awareness.
In 2018, she was awarded a Fellowship from the prestigious Winston Churchill Memorial Trust, which saw her travel to Canada and Australia to respond to knife offences and share her findings to benefit people across the UK.
"My time in case work definitely inspired me to want to do this research," she said. "I remember thinking at the time that there had to be a way to lower the risk of these terrible crimes from happening."
"DMU is already working closely with Leicestershire Police, Leicestershire City Council and the deputy police and crime commissioner in response to knife crime in the city and I spoke to several police forces across the UK for my research.
"I think it's so important to take a proactive approach in the reduction of knife crime."