Review of Action Fraud contractor following newspaper sting
The Home Secretary has demanded a review of Action Fraud's performance after an undercover reporter found training cut short, managers referring to victims as 'morons' and staff acting unprofessionally in the call centre and on social media.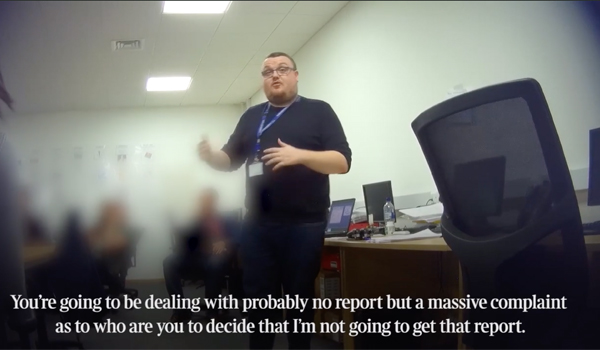 The City of London Police has launched an investigation into the investigative article's findings published in The Times newspaper on Thursday (August 15).
Its reporter obtained a job at Action Fraud's Scottish call centre, outsourced to US firm Concentrix by City of London Police, using his own name.
Covert footage shows inexperienced call handlers, allegedly as young as 16, taking victims' reports after only two weeks of training.
Call centre managers mocked police interest in the reports and posted unprofessional comments on their personal social media accounts. One individual claimed to be drunk while at work.
They also called victims "morons", "screwballs" and "psychos" for falling for scams.
Training Manager Michael Rodgers is seen telling staff not to tell victims how their report is assessed or how it is classified.
"Never disclose there's a scoring system. Could you imagine having that conversation with somebody where you say that's not going to score high enough so you're kind of wasting your time," he said.
He was also accused of cutting short the training call handlers receive.
The Times said it carried out the undercover investigation after hearing of concerns that reports to Action Fraud were not being investigated.
Home Secretary Priti Patel has written to the City of London Police Commissioner expressing her concerns over allegations made in the article.
Four staff members have been suspended by Concentrix as it launched its own internal investigation.
Commander Karen Baxter is leading the City of London Police review of allegations made by the undercover reporter.
She said: "The incidents he describes do not represent the standards of work and ethics we expect from anyone associated with the City of London Police. We will be carrying out an immediate examination of standards and requiring our agents to do the same.
"It is important to emphasise that we know that the vast majority of the staff who work for Action Fraud do a good job in sometimes difficult circumstances, and we would not want this to deter members of the public from coming forward and reporting fraud."
Action Fraud was transferred to the City of London Police in 2014.
Speaking to Police Professionalearlier this month Ms Baxter described it as "not perfect but the envy of the rest of the world".
A Her Majesty's Inspectorate of Constabulary and Fire and Rescue Services thematic report, published in March this year, said fraud is not a priority for any law enforcement agency outside of those with a responsibility to investigate it at a national level.
Ms Baxter says forces do not have the resources to investigate all reports referred to them. She said: "Fraud is a disgusting, horrible type of crime that permeates the worst end of criminality. The harm it causes is significant, it needs to be seen alongside child exploitation and the level of harm caused by drugs and firearms."  
She said the inspection was helpful in raising the issue up the political and policing agendabut chief constables currently face the stark choice of whether officers will investigate a burglary, weapon, human trafficking or fraud.
Reports from the public and businesses have grown to over 900,000 in the last year. However, the Crime Survey of England and Wales shows fraud is massively under-reported. It showed it is the most common crime experienced by individuals, with 3.6 million offences committed against members of the public each year.
The Association of Police and Crime Commissioners' (APCC) Fraud Lead, PCC Clive Grunshaw, and Deputy Fraud Lead, PCC Anthony Stansfeld, said: "Speaking on behalf of all Police and Crime Commissioner colleagues, we are deeply concerned by the content of The Times report on failings in Action Fraud. Victim care should be at the very heart of a whole system approach to combat this vile crime, whereby criminals often target the most vulnerable in our communities.
"The Association of Police and Crime Commissioners support the recommendations from the recent HMICFRS thematic inspection of fraud, particularly in relation to Action Fraud and wider victim care. We will be seeking assurances from the City of London Police that the recommendations are being urgently progressed and the allegations in this report are being properly investigated."