Retired officers warn PCC in row over force`s cherished number
Retired officers have accused a police and crime commissioner (PCC) of getting rid of the force`s "crown jewels" after putting one of one of Britain`s most valuable car number plates up for sale.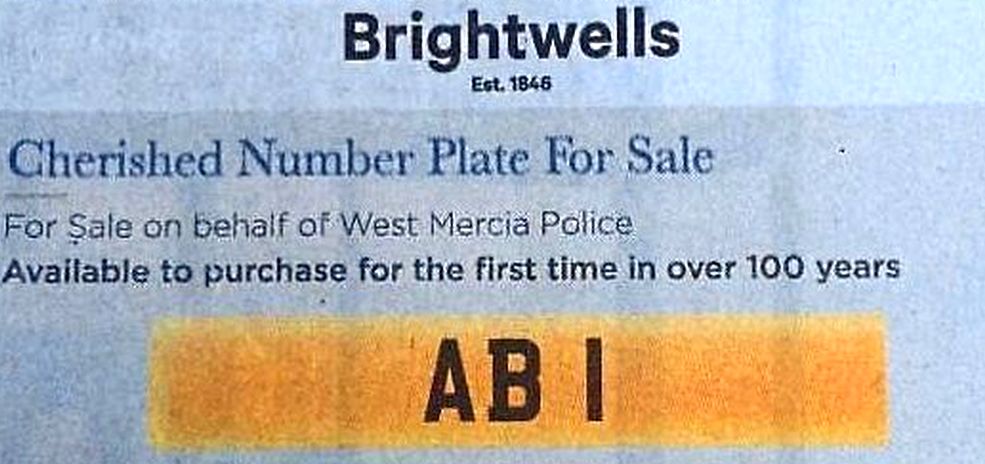 Retired officers have accused a police and crime commissioner (PCC) of getting rid of the force`s "crown jewels" after putting one of one of Britain`s most valuable car number plates up for sale. They have rounded on West Mercia PCC John Campion for his decision to part with the cherished AB 1 registration number, claiming it is West Mercia Police`s "heritage". An online petition calling on the Government to step in and prevent the sale has so far attracted nearly 750 signatures. Experts say its value is increased because there is documentation to show it has only ever had one owner. The number plate has traditionally been used by Worcestershire`s chief constables and former officers were quick to condemn the move when they saw it advertised for sale online. Ironically, the current chief constable – Anthony Bangham – would be an exact `personalised` match for the plate. Mr Campion said his decision to sell the historic vehicle registration number – which at least one expert believes could fetch £250,000 – is part of his project to invest in frontline policing. Retired Police Constable Paul Yarrington of Stourport, who served with West Mercia Police from 1968 to 2003, said: "It`s like selling the crown jewels really. It`s a bit of police history. "A lot of police officers disagree [with the sale]. It was a car they all recognised and when they saw it come they would smarten themselves up as they knew it was the chief. "Thousands of officers if you asked them what AB 1 was they could say it`s the chief`s car. I was disgusted when I saw it for sale. "There`s at least 19 cars I know it`s been on. There`s no sense of history now. I get the feeling the force is alienating itself against the public." The former officer cited the loss of police clubs and the closure of the force`s old museum in Hindlip, near Worcester, as examples of the force cutting itself off from the community. Retired officer Alan Matthews added: "Registration number AB1 was gifted to the chief constable of Worcestershire in perpetuity to be used on the chief constable's car, and not to be disposed of. "The county's police and crime commissioner should be instructed to retain the number in perpetuity as originally gifted." Andy Myers, another former West Mercia Police constable said: "I am totally disgusted at this. "AB 1 was a plate we all automatically recognised on sight and adjusted our deportment appropriately, just in case it decided to stop. "Selling AB 1 really is the scraping of the barrel bottom." Mr Campion said: "I acknowledge that there is history associated with this registration number. "But the prospect of a chief constable or any public servant using a private number plate belongs in a time gone by, both for security reasons and public expectation. "However it is right that we utilise the assets we have to support policing in our area, particularly when they have not been used for around six years. "My priority is to ensure that those who are most vulnerable are protected, therefore a considered decision has been made to market AB 1 and any sale proceeds will be reinvested into West Mercia and frontline policing." The number plate had been listed online with Brightwells Auctioneers and Valuers. But the company says it is no longer selling the item and the Office for the PCC confirmed the company is no longer acting for it. "We are holding fire at the moment and looking at how we move forward to market the sale," a spokesperson told Police Professional Vehicle registration was introduced in 1903 and it is believed AB 1 was first issued to the county in 1908. The registration number was originally issued to Worcestershire Constabulary Chief Constable Herbert Sutherland Walker and used on his cars until he retired in 1931. It was then withheld for a number of years and reissued in 1957 to Chief Constable JE Lloyd-Williams. John Cherry, director of regplates.com, said: "AB 1 is a bit special because it`s never come up for sale before.