Reports of accommodation picture investigations dismissed as 'nonsense'
Chief officers have denied that officers are being investigated for posting pictures highlighting their sub-standard accommodation for the US Presidential visit online.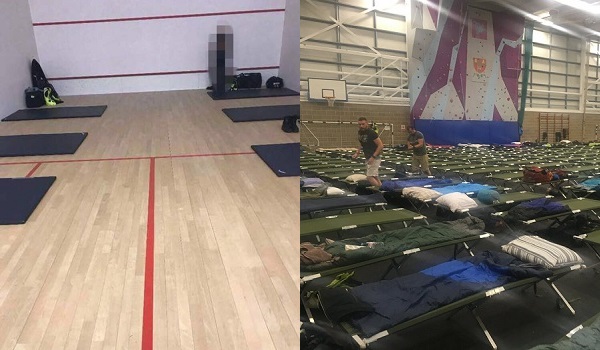 Officers were outraged on Thursday (July 12) when it emerged that hundreds deployed on Mutual Aid for Donald Trump's first official UK visit were being asked to sleep in cramped conditions in gymnasiums.
Allegations quickly surfaced that those who posted the images on social media were being investigated and asked to take them down.
Essex Police has apologised for the quality of the accommodation and has since found more suitable places for the officers to stay.
However, Essex Police Chief Constable Stephen Kavanagh told Police Professional the reports of investigations were "nonsense".
A spokesperson for the force confirmed that officers were not being asked to remove pictures or delete their social media accounts.
They said: "We're aware of comments suggesting we are investigating to establish who publicly disclosed accommodation issues for officers visiting Essex.
"This is not the case. Our priority remains welfare of officers working in Essex. We're ensuring they have suitable accommodation."
Thousands of officers have been redeployed for pre-planned security operations as part of Mr Trump's visit in what has been described as the largest police mobilisation since the 2011 riots.
While the majority were found suitable accommodation, such as hotel rooms or barrack style set-ups, others were left crammed into gymnasiums or sleeping on mats on the floor.
The Police Federation of England and Wales reports that hundreds of officers had just five toilets and showers between them and no access to hot water.
These conditions prompted dissatisfied officers to share their accommodation with colleagues online, and led staff associations to demand someone be held accountable for the failure to find more suitable places for them to stay.
Lincolnshire police and crime commissioner Marc Jones tweeted that he had heard officers "who 'leaked'' photos of the sorry conditions are being sought out", that images were being taken down from Twitter and that "firm action" was being taken.
Police Professional has not been able to stand up the rumours.
Later on Thursday, Essex Police's Assistant Chief Constable Pippa Mills apologised to those affected and claimed better accommodation has been secured.
Shaun Sawyer, chief constable of Devon and Cornwall Police, tweeted: "Well done to all involved in resolving this issue and credit to those who raised it in the first place.
"I do not know the background detail but I know it has been of grave concern and at the forefront of [the National Police Chiefs' Council] today."