Report that links carrying Tasers to increased risk of assault makes "massive assumptions"
The findings of a year-long study by the University of Cambridge that found police officers carrying Taser were more likely to be assaulted and 50 per cent more likely to use force are being widely challenged for making "massive assumptions" on the back of only a handful of incidents.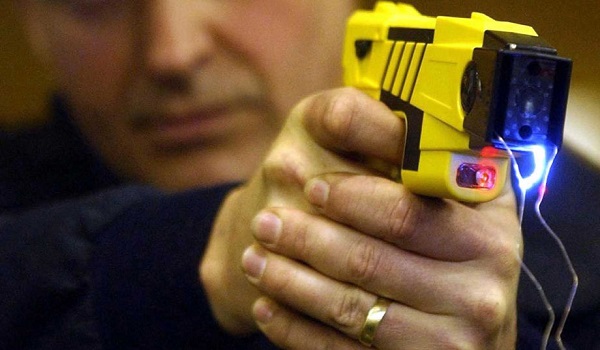 The study examined 400 frontline shifts with an officer carrying a Taser and compared the results with an equal number of unarmed shifts. Use of force by officers carrying Taser was found to be 48 per cent higher than among those who were unarmed. Even unarmed officers accompanying Taser carriers used force 19 per cent more frequently than those on Taser-free shifts, the researchers found. 
Because there was no increase in injury of suspects or complaints against officers, the criminologists concluded suspects were instigating hostilities and police were responding forcefully. The researchers said the findings suggest Taser triggers the "weapons effect", a long-established psychological phenomenon whereby sight of a weapon increases aggressive behaviour. 
The lead researcher on the project, Barak Ariel, said: "The very presence of the weapon led to increased hostility between the police and public… There are some people, probably the kind of people that come into contact with the police, that respond negatively to weapons, it provokes them." 
Officers carrying Tasers were found to be more likely to use other types of force, such as handcuffing and CS spray, than those without them. 
However, the findings have been criticised due to the small number of incidents on which they are based. During the trial period, which ran from June 2016 to June 2017, Tasers were de-holstered nine times and discharged on two occasions. Six officers carrying Tasers were assaulted during the period compared with three assaults on officers without them. The researchers concluded the doubling was significant because such assaults were so rare. 
Ché Donald, vice-chair of the Police Federation of England and Wales, said: "This study provides a catchy headline but when you look at the detail, I have some serious concerns about the veracity of the results.  
"The City of London is a small force with a unique policing set up and fewer than 700 officers – only a small percentage of whom police on the frontline. This study recorded less than 6,000 incidents over a 12-month period and when you consider other forces deal with several thousand incidents on a daily basis you start to see where issues could arise."   
He added: "This is a tiny number on which to base such a massive assumption. It must also be recognised that officers who carry Taser – specifically because they do have this tactical option – are allocated and attend more incidents where there is an increased threat of harm or violence [and] they are naturally involved in more of these types of incident." 
Nick Adderley, chief constable of Northamptonshire Police, tweeted: "I will read the research paper, but I'm not convinced. The article doesn't mention the fact that Taser officers will often be the first deployed to the most violent incidents because they carry Taser, skewing the figures I would suggest." 
The National Police Chiefs' Council's lead for less lethal weapons, Deputy Assistant Commissioner Lucy D'Orsi, was also sceptical about the findings. 
"Our experience of Taser is that they have a deterrent effect on violence and threats of violence," she said. "In 85 per cent of cases, the mere presence of the device is enough to bring an incident to a swift conclusion without the need for force to be used at all." 
The authors of the University of Cambridge report said the research did not aim to comment on whether Taser use was a good thing, but rather how they should be deployed. The study's co-author, Chief Superintendent David Lawes of City of London Police, said that as the result of the research, the force was reviewing the placement and exposure of Taser to see whether they should be concealed instead of being worn overtly.  
Mr Donald said: "If any shift in policy regarding the concealment of Taser – or indeed firearms – is to be considered we would expect this to be based on a much larger, more empirical study encompassing a more representative set of forces across the country." 
However, Mike Reed, chair of the City of London Police Federation, said he was content with the numbers of deployments used in the study and cautioned against dismissing its findings.  
"As police officers we base our work on evidence, some of which is not ours or indeed contrary to our initial ideas or beliefs – and the correct and ethical thing to do is to examine it in an open manner," he said.  
"It is our view that it would be unwise of a police service or a body that is charged with the welfare and protection of its officers not to acknowledge the findings of a respected research university – and indeed the author Dr Barak Ariel has previously published important work on the link between body worn video and the reduction of complaints against police.  
"As a service that polices by consent, it does not mean that we should not welcome scrutiny and challenges to current working practices that could lead to improvements for both police officers and the people we serve. It would be a shame if through failing to do this, an officer or member of the public was injured when a safer outcome could be achieved by simply changing the style of the carriage of the Taser or tactics, as the research suggests."   
He added: "This published research does not in any way suggest that Taser does not have a place in policing but hints that it could perhaps be used in better way. The City of London Police Federation will be happy to be a constructive part of any discussion and debate over this on behalf of the officers we represent." 
Last week, newly published Home Office figures showed the use of Taser had increased by more than 50 per cent in the past year and that those from black, Asian or minority ethnic backgrounds were significantly more likely to have the devices used against them than the rest of the population.  
Speaking in response to the release of the "use of force" statistics, Oliver Feeley-Sprague, Amnesty International UK's programme director for military, security and police, said Taser electronic weapons were useful in "genuinely life-threatening situations" but the charity had "serious concerns about Tasers becoming the norm for day-to-day policing, and this study reinforces those warnings around the risks posed by the weapon".