Renaming Leicestershire Police would be 'nonsense' says Federation chair
Renaming Leicestershire Police would be a complete waste of resources at a time when the force needs more officers, Tasers and other equipment, the chair of the local police federation has said.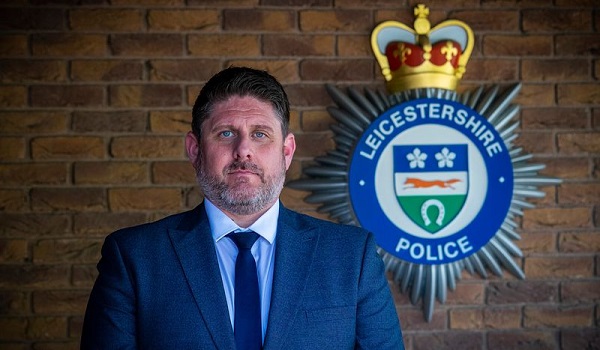 Adam Commons, Leicestershire Police Federation chair, said he was angry that the idea was even being discussed at a time when there are so many more important priorities for the force.
Leicestershire police and crime commissioner (PCC) Rupert Matthews has launched a consultation on changing the name of 'Leicestershire Police' to 'Leicestershire and Rutland Police'. In a post on his website he said: "Many communities in Rutland do not feel a natural affinity with Leicestershire Police. And this is not helped by the name of the force being 'Leicestershire Police'."
"I want to make long-lasting and positive changes to Leicestershire Police and one of the things I am able to do is develop the name of the force so that it has greater identity and resonance with all parts of the force area, whether in rural Leicestershire, Rutland and the City of Leicester.
"This is not a new idea as between 1951 and 1972, our force was known as 'Leicestershire and Rutland Constabulary'. I would like to request that the name of Rutland is once again included in the name of our police force."
Mr Commons said the idea was "a nonsense" – and that the significant sums of money that would need to be spent on vehicle livery, paperwork, uniforms, leaflets and signage if the name were changed should instead be spent on the front line where members of the public would benefit.
Mr Commons also noted that the consultation has been launched just as Mr Matthews reversed a plan agreed by his predecessor to increase the number of officers in the force by 100 on the grounds that the proposal was no longer "sustainable" in the longer term.
"If you're going to cut numbers for officers, we are not going to be spending money on changing a name," said Mr Commons. "Because we are going to have to spend money. It is not going to be free. Signs don't just fall off buildings and need replacing.
"Why do we need to do this? I don't understand it. With everything that is going on in our world – the pandemic, officers getting injured, everyone worried about the increasing cost of living – this is so unimportant. The name cannot be a priority.
"If we have got money to spend, it needs to go on equipment, training, vehicles, Taser capacity. If you were to ask the public, they would want us engaging with the communities, driving down knife crime, violent crime. It has made me angry. In the list of priorities in the policing world, I am just astounded that this has been suggested."
In Hampshire, PCC Donna Jones has been campaigning to change the name of Hampshire Constabulary to include the whole police force area by adding 'Isle of Wight' to the formal legal name (https://www.policeprofessional.com/news/big-step-forward-in-bid-to-change-name-of-hampshire-constabulary/).