Regulation of e-scooter 'Wild West' must not be delayed, ministers warned
Ministers have been warned against delays in regulating the use of e-scooters that critics say have created a "Wild West" on the nation's streets and pavements.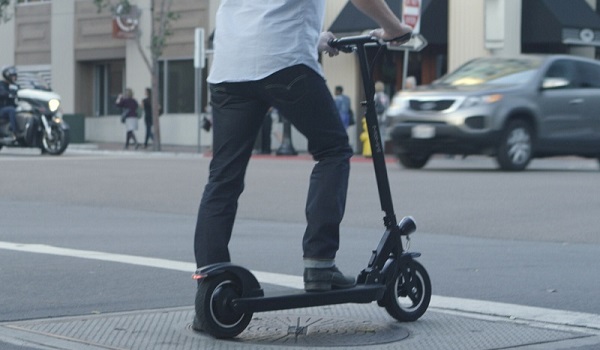 The demand came as the Government signalled rules will be brought in as part of the wide-ranging Transport Bill announced in this week's Queen's Speech.
The Tory administration has faced criticism over the delay in taking action over the compact electric vehicles, which have sparked safety concerns and calls for them to be banned.
While freely available to buy and a common sight on roads and pavements, personal e-scooters cannot currently legally be used in the UK except on private land.
Only rental scooters are currently permitted to be ridden as part of official trials across the country and they are not allowed on pavements.
Speaking as peers debated the Government's proposed legislative agenda, Conservative peer Baroness Neville-Rolfe, a former Tesco executive and minister, said: "I want to take this opportunity to reiterate my personal concerns about e-scooters and the Government's reluctance to tackle the Wild West… that exists on our streets and our pavements."
She added: "I would ban e-scooters, I think e-bikes are much less dangerous and almost as convenient. However, if the Government wish to regulate instead, they need to get on with it immediately and not take too long over legislation.
"We need a speed limit, we need riders to wear helmets, and we need to make it a criminal offence to ride scooters on pavements, with a power to confiscate and perhaps destroy the offending items.
"We also need to provide a budget, perhaps financed by the e-scooter companies, for the police to enforce the law on pavements, which otherwise will become no-go areas not only for us but for the vulnerable and disabled who stand to be injured, that would really improve our towns and cities and push people into their cars."
Earlier, Transport Minister Baroness Vere of Norbiton told peers: "Safety is also at the heart of our plans to create a regulatory framework for smaller, lighter, zero-emission vehicles, sometimes known as e-scooters.
"Their popularity is clear, and new rules are needed to improve safety and crack down on illegal use while unlocking innovation and growth in this emerging multi-billion pound industry.
"To that end, it is our intention that the Bill will create a low-speed, zero-emission vehicle category that is independent from the cycle and motor vehicle categories.
"New powers would allow the Government to decide the vehicles that fall into this new category in future and how they should be regulated to make sure that they are safe to use. We hope that e-scooters will be the first of these vehicles."
Highlighting safety concerns previously raised in the upper chamber, Labour frontbencher Baroness Blake of Leeds said: "Although we can all see that e-scooters can play a valuable role in the future of short-distance travel, too many of them on the streets of the UK are unnecessarily dangerous in their current form."