Record number of knives taken off streets during week of action
The annual week-long intensification of anti-knife crime work by forces across England and Wales has seen more weapons recovered than ever before, the National Police Chiefs' Council (NPCC) has revealed.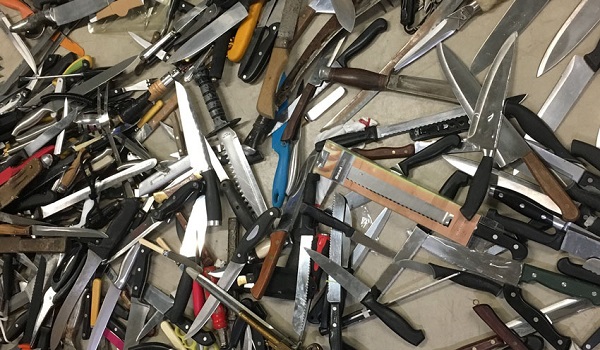 Forty-two police forces across England and Wales, as well as British Transport Police, took part in this year's Operation Sceptre between Monday November 15 and Sunday November 21.
Officers seized a total 936 knives, including machetes, swords and hunting knives, while a further 8,703 were either surrendered or found in sweeps. The operation saw 1,977 people arrested, of which 773 were related to knife crime offences.
Other forms of criminality such as supplying drugs were also identified, including large scale cannabis farms.
Another part of the operation saw policing working alongside HM Prison service with intelligence leading to the search of 74 cells and 118 inmates across five prisons. A total of 12 weapons were found including a sharpened toilet brush handle and a knife made from a sharpened tuna tin.
As well as the removal of knives Operation Sceptre also focussed on education and engagement with members of the public and retailers who sell knives. In total, 1,731 schools were engaged with, as well as 727 local community events put on to talk about the dangers of knife crime.
NPCC lead for knife crime, Deputy Assistant Commissioner Graham McNulty, said: "The effects of knife crime can cause devastation among individuals, families and communities. Every force across the country works tirelessly to take knives off the streets and crack down on the serious violence associated with them. This week has seen an extraordinary effort to intensify that focus.
"We have seen some outstanding results in the last week taking 9,639 knives off our streets and making 773 knife related arrests, more than any previous Op Sceptre. This enforcement activity makes it clear that we will not tolerate knife crime.
"Op Sceptre highlights the continuing commitment of the police to work with the public in preventing young people carrying knives and our latest Op Sceptre saw our engagement with schools and communities increase to higher levels than ever before. Young people must understand that carrying a knife is not the answer, nor does it offer the protection they think it does. It only puts them at greater risk."
Minister for Crime and Policing Kit Malthouse said: "Knife violence is a stain on our communities. Until you have spent time with the families of those who have lost loved ones to this vicious crime, you cannot comprehend the devastation they feel.
"That's why I am determined to make the fight against knife crime relentless. Operation Sceptre is a big part of that commitment, and I commend those officers dedicated to making our families safer. But while we concentrate on strong enforcement now, we must also do the long-term work to turn young people away from violence and we are investing heavily in this twin track to make sure all our kids make it home safe."