'Real depth' added to chief officer team with DCC appointment
Cumbria Constabulary has promoted its temporary deputy chief constable to the permanent role.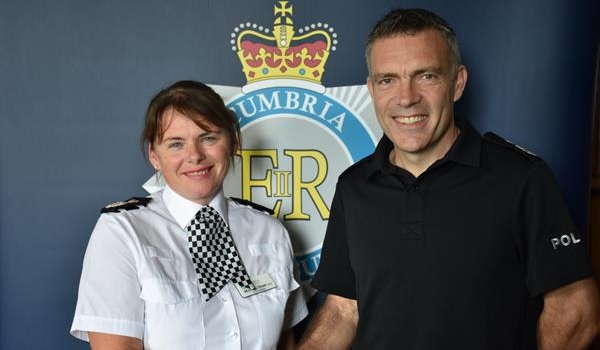 Assistant Chief Constable Mark Webster has been confirmed as the force's new deputy after a "rigorous interview" on Monday (September 17).  
Mr Webster has served as temporary deputy chief constable since March 1 this year.  
Chief Constable Michelle Skeer said: "I am pleased to announce that Mark Webster has been appointed permanently to the role of deputy chief constable. 
"He has a thorough knowledge of policing gained during his 26 years in Greater Manchester Police, the National Crime Agency (NCA) and latterly Cumbria Constabulary.  
"I am confident he will provide great leadership as part of the chief officer team and I look forward to us continuing to work closely together."  
Cumbria police and crime commissioner Peter McCall added: "I am delighted to hear that Mark Webster has been appointed deputy chief constable for Cumbria.   
"He brings great experience to the role from other forces including the NCA.  His appointment adds real depth to our strong chief officer team."  
Mr Webster began his policing career at Greater Manchester Police in 1992, serving in a number of uniformed and detective roles.  
After gaining experience in homicide and major crime investigation, he was posted to the Stockport Division to deal with issues of racism and corruption that were highlighted in the BBC Panorama episode 'Secret Policeman'.  
Mr Webster then joined the National Crime Squad and transferred to the Serious Organised Crime Agency at its creation in 2006, where he ran its cybercrime unit and managed the transition of specialist National Police Improvement Agency units into the NCA. 
He soon moved to be responsible for the NCA's performance, risk and professional standards functions as well as leading collaboration work between the agency and Counter Terrorism policing. 
Mr Webster was then appointed assistant chief constable of Cumbria Constabulary in July 2017.  
He said: "I am immensely pleased to have been appointed as deputy chief constable. I look forward to continuing to work with such a capable team of people who work immensely hard every day to keep the people of Cumbria safe."