Ready to respond to the challenges that 2021 brings
Seasonal wishes from Scottish Justice Secretary Humza Yousaf.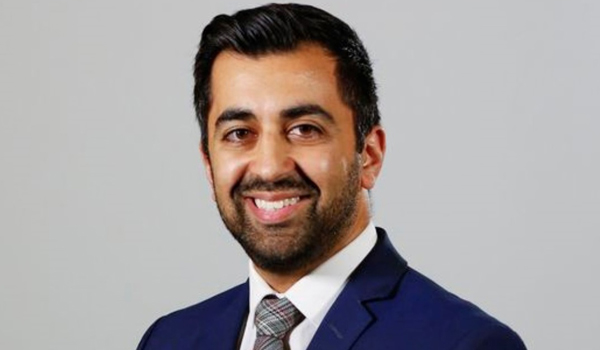 2020 has been an exceptional year – a year like no other and one that none of us will forget.
Coronavirus (Covid-19) disrupted many of our plans and has dominated our lives. But for Scotland's police officers and staff, they did what they do best – adapted and continued to deliver a world class service. They routinely protect and serve our communities in challenging circumstances, but Covid-19 has made it tougher all round.
I am incredibly grateful for the hard work of police officers and staff throughout the pandemic, and the professionalism they have shown.
While still dealing with the day job of preventing and tackling crime, sexual crime and organised crime gangs or investigating and securing convictions for terrorism, Scotland's officers and staff have worked hard to reassure communities while dealing with offences relating to breaching Covid regulations, which had the potential to spread the virus and put even more lives at risk.
Prior to lockdown in March, the Scottish Biometrics Commissioner Bill was passed. This will see a new Commissioner appointed early next year who will oversee how Police Scotland and the Scottish Police Authority (SPA) deal with biometric data, ensuring that the approach taken is ethical, lawful and balances the safety of communities with the rights of the individual.
This year's Scottish Crime and Justice Survey showed that overall crime has fallen by 45 per cent since 2008/09 while violent crime has almost halved over the same period. It is really encouraging to see that Scotland remains a safer place than a decade ago but there is no room for complacency. Our firm focus remains on early intervention and prevention, which is critical to our efforts in keeping crime down and
Dame Elish Angiolini published her final report into police complaints handling, investigations and misconduct and I welcome the chief constable's response to it and his strong commitment to ensure equality and inclusion are taken seriously across the police service. I am sure this will be a focus of 2021.
I am pleased that the Scottish government has been able to support Police Scotland in accelerating its plans to invest in a sustainable ultra-low emission vehicle (ULEV) fleet through the additional £5 million allocated for this purpose in the 2020/21 Scottish budget. Police Scotland's fleet strategy has a focused drive towards decarbonising its fleet of vehicles, and demonstrates ambitious leadership in this area, through its plans to reduce the impact that the organisation will have on the environment. I hope that Police Scotland's ambitious plans will inspire others to adopt these new technologies.
We have also given an additional £8.2 million to the SPA to mitigate the impact of Covid-19 on the policing budget.
We continue to ensure that officers and staff are equipped to do their job. Recent academic research has also shown the roll out of new mobile technology has had a very positive impact on officer safety, wellbeing and public confidence.
Restitution Orders, a new financial penalty for assault on police, will come into force early February. This means the courts will be able to impose such an order on    those who commit this disgraceful crime against our police officers and staff – requiring the offender to contribute towards support services for the victims of such assault. This sends a clear signal that this behaviour is unacceptable.
And I congratulate Police Scotland for recently winning the Campbell Christie Public Service Reform Award for their work implementing the Contact Assessment Model (CAM) that has helped ensure officers are deployed where most needed and that people receive the support they require. An increased number of calls are being resolved by telephone, referral on to a more appropriate service or the scheduling of 'diary' appointments with community officers. Working with other partners to address risk and vulnerability, mental health is also a key feature of this approach which can only be a good thing to help keep people safe and ensure they get the right help at the right time.
Policing preparations are already under way for major events on the horizon, including Brexit and the UN Climate Change summit hosted by Glasgow.
I am sure next year will bring many different challenges but with the experience of our officers and staff and strong leadership from senior officers – Scotland's service is well-placed to respond to what 2021 brings.
However you are spending the festive period, I wish you and your families a peaceful time.