Ransomware 'biggest global cyber threat we face', warns NCSC
The chief executive of the National Cyber Security Centre (NCSC) has warned that ransomware is the "biggest global cyber threat we face".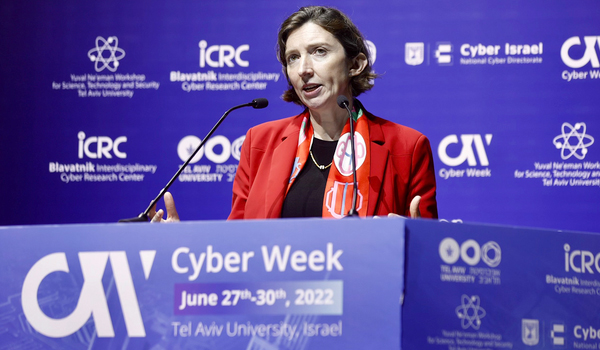 Lindy Cameron told delegates at Cyber Week in Tel Aviv last week that ransomware attacks "strike hard and fast".
"They are evolving rapidly, they are all-pervasive, they're increasingly offered by gangs as a service, lowering the bar for entry into cybercrime," she said.
"And that's what makes them such a threat – not just the nationally significant incidents that my team and I deal with in the NCSC, but also the hundreds of incidents we see that affect the UK more widely every year.
"These complex attacks have the potential to affect our societies and economies significantly, if it were not for the expertise of our incident management operators working in collaboration with their counterparts in industry and their international counterparts gathered here today.
"So, we worked hard over the last year, to really understand, with our law enforcement partners, the criminal system behind ransomware. We want to drive down profits and drive up the risk to the criminals. We continue to work on understanding the scale, nature and evolution of their techniques.
"We want to make ransomware an unprofitable and unattractive business."
Ms Cameron added: "Russia may dominate the headlines at the moment, but this threat of ransomware has not gone away – and nor have we stopped our relentless focus on it."
However, she said it was "not all doom and gloom".
In particular, Ms Cameron highlighted the "noteworthy successes" of the NCSC's Active Cyber Defence programme, which helps to reduce the volume of low-level commodity attacks.
"Our 'Takedown project', for example, removed 3.1 million malicious URLs in 2021. Which we think saved the UK £223 million," she said.
"In the same period, our 'Protective DNS' service handled more than 600 billion requests – 160 million of which were blocked from accessing known sources of malicious content.
"And, one service that I am particularly proud of is our Suspicious Email Reporting Service, because we enlist the great British public to help us. So far, the public have told us about 10.5 million suspicious emails, from which we've taken down 76,000 online scams.
"It's a great example of our 'whole of society' approach in action and it helps our citizens feel as if they're helping us as a country, not just to protect themselves, but to protect the nation as a whole.
"But I think to succeed, partnerships are essential. So, we are building stronger ties between academia, industry and government.
"We're reaching out to start-ups, with initiatives designed to spur the development of tools which will protect the UK's smaller and medium-sized businesses."
She said the cyber security challenge is particularly acute because of the globalised nature of digital technology.
"We must come together around our shared values," Ms Cameron added. "Each nation bringing its own particular skills and strengths to build a network which is naturally resilient to attack, one which favours innovation, discourse and creativity over control and coercion."
Read Lindy Cameron's full speech at https://www.ncsc.gov.uk/speech/lindy-cameron-tel-aviv-cyber-week