Rail policing merger delayed
Scotland's rail policing merger has stopped in its tracks as MSPs re-examine their options.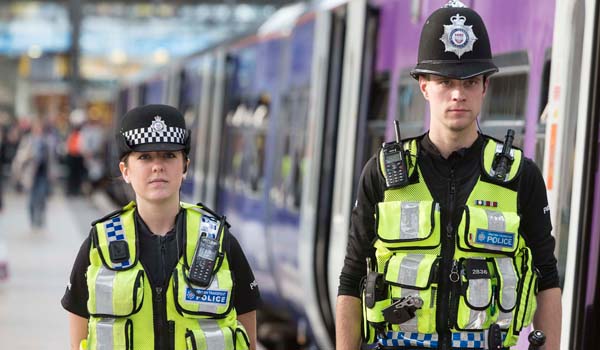 Scotland's rail policing merger has stopped in its tracks as MSPs re-examine their options.Justice Secretary Humza Yousaf confirmed that plans to combine British Transport Police's (BTP) operations north of the Border into Police Scotland have been delayed while alternative routes are explored.
The decision follows advice from Police Scotland that pressing ahead with the merger could lead to complications with the force's ongoing work to overhaul its ICT.
Staff associations have said they are reassured to see "decisive action" being taken but the Scottish government claims it remains committed to the full integration of the two forces.
Mr Yousaf said: "Throughout this process we have been committed to listening to officers and staff. As part of that ongoing approach I have decided we will re-examine all potions for the devolution of railway policing, with clear governance structures that ensure accountability to the Scottish Parliament.
"The absolute priority for all those involved is the safety and security of officers, staff and those who use Scotland's railways.
"I intend to update Parliament following summer recess. In the meantime, I want to pay tribute to the ongoing commitment of officers and staff of both police services, who I look forward to engaging with on this matter in the very near future."
Mr Yousaf's announcement on Monday (August 27) marks the latest hurdle for the controversial rail policing merger.
In February, plans to integrate railway policing into Police Scotland were put on hold indefinitely when Justice Secretary Michael Matheson announced a re-planning exercise to look at problems that could emerge during the process.
Devolution of rail policing in Scotland was one of several recommendations made by the Smith Commission in 2014.
Police Scotland advised MSPs that issues could appear in the force's current ICT transformation project, which could be affected by the requirement to also deliver railway policing at this time.
The Scottish government will now bring together Police Scotland, BTP, the Scottish Police Authority (SPA) and other partners while alternative options for combining the forces are considered.
The issue is due to be discussed by the SPA at a meeting on Thursday (August 30).
The delay has been welcomed by British Transport Police Federation and by opposition politicians, who were opposed to the potential merger.
Scottish Labour described the announcement as a "humiliating climbdown from the SNP".
Justice spokesperson Daniel Johnson said: "Now the government's dogmatic approach, which has resulted in huge uncertainty for BTP officers and staff, must be stopped.
"The SNP's plans to merge BTP with Police Scotland was a senseless example of politics before public policy and the minimum the government should do is re-examine its options."
Scottish Conservative justice spokesperson Liam Kerr added: "After months of warnings from the Scottish Conservatives and others about this botched merger it appears the SNP has finally been forced to act and think again."