Public inquiry to examine if 'race played a part' in Sheku Bayoh death
The Scottish government has launched a statutory public inquiry into the circumstances leading up to and following a 2015 death in police custody.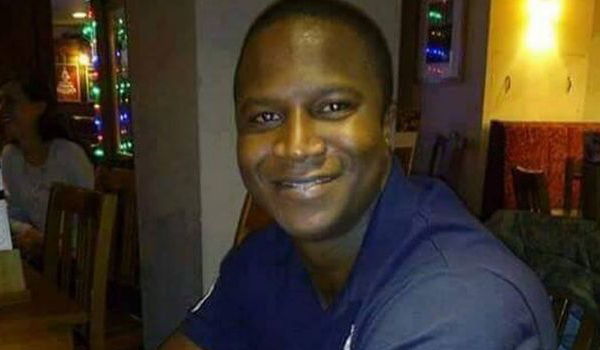 The announcement follows a meeting between First Minister Nicola Sturgeon and the family of Sheku Bayoh and a decision by the Lord Advocate not to prosecute any officer involved in his detention.
In a statement to Parliament, Justice Secretary Humza Yousaf said the process of appointing the chair of the inquiry will begin shortly.
Officers were called to reports of a man chasing cars and carrying a knife in Kincardine, Fife, at around 7.30am on May 3, 2015. Mr Bayoh struck a female officer and is alleged to have been violently aggressive in resisting arrest.
After being placed in handcuffs and leg restraints, Mr Bayoh fell unconscious and was given first aid at the scene. He was rushed to hospital where he died almost two hours later.
The female officer was also treated in hospital and has since left the service on ill-health grounds.
It has emerged that on the morning of the incident, Mr Bayoh had a fight with a friend. He then left home carrying a knife. A weapon was recovered "feet from where he was detained", according to the officers' lawyer Professor Peter Watson.
He had also taken the illegal drugs ecstasy and Flakka, a new synthetic substance known to cause 'excited delirium', which results in hyperstimulation, paranoia and hallucinations that can lead to "violent aggression".
The Police Investigation and Review Commissioner (PIRC) conducted an independent inquiry and in 2018 the Lord Advocate Lord Wolfe concluded that no officers should be prosecuted. The decision was challenged by Mr Bayoh's family and a review was launched after a BBC Disclosureprogramme claimed discrepancies between CCTV footage and the officers' statements.
On Monday (November 11), Lord Wolfe announced the review upheld the decision not to pursue criminal proceedings against any officer involved in Mr Bayoh's detention.
The lawyer representing Mr Bayoh's family, Aamer Anwar, claimed officers had been shown to have lied, colluded and conferred after Mr Bayoh's death.
Professor Watson strongly refuted the allegations and said: ""There is no evidence whatsoever that any police officer has told a lie, colluded or conferred on any matter or acted unlawfully. All this despite the assertion that the police involved had been 'shown' to have lied. That is factually wrong.
"These are no doubt allegations which Mr Anwar will put to witnesses at the proceedings to follow but it is not a fact.
"Sheku Bayoh violently attacked a female police officer so injuring her that she has since been retired from active service. Police officers were responding to calls from members of the public to an individual matching the description of Mr Bayoh wandering the streets of Kirkcaldy with a knife acting in what some described as a 'zombie' like state. This would at least explain why Mr Bayoh and the police came into contact."
Mr Anwar and campaigners have criticised the treatment of the family and claim officers "smeared" Mr Bayoh following his death and used black stereotypes to describe his behaviour.
They also attacked the delay of 32 days in officers providing statements to the PIRC.
However, following the family's meeting with Ms Sturgeon and the Justice Secretary on Tuesday (November 12), Mr Yousaf said: "The First Minister and I met with Mr Bayoh's family to express our deepest condolences and assure them of our commitment to establishing the facts surrounding this tragic incident. They are right to expect a full public examination of the circumstances of Mr Bayoh's death and I stated my determination to put in place a process to deliver that.
"I can confirm that I will establish a statutory public inquiry under the Inquiries Act 2005 into the circumstances leading up to and following Mr Bayoh's death.
"All deaths in police custody are subject to a mandatory Fatal Accident Inquiry (FAI) under the Fatal Accidents and Sudden Deaths etc (Scotland) Act 2016. The responsibility for establishing the FAI sits with the Procurator Fiscal, under the direction of the Lord Advocate. FAIs examine the cause of death and consider steps to prevent other deaths in similar circumstances.
"In this case, the Lord Advocate considers the remit of a FAI would not allow all the issues which require to be investigated to be addressed. FAIs can examine circumstances and factors leading up to a death, but not what follows after, and in this case the Lord Advocate has identified questions, raising issues of public interest and importance about the early stages of the post-incident management of the investigation that an FAI simply could not examine.
"That being the case, it is imperative that the circumstances leading up to Mr Bayoh's death and the events that followed, including whether race played a part, are examined in full and in public."
The Scottish Police Federation Deputy General Secretary David Kennedy said: "We welcome the decision to hold a public inquiry, which will allow for a full and independent examination of the facts.
"It is unfortunate that it has taken four and a half years for this decision to be made, however, the Scottish Police Federation continues to support the officers involved."
Professor Watson added: "The announcement of a public inquiry is a helpful step which will allow the facts to be established and hopefully this will bring to an end speculation and accusation disguised as fact."
Police Scotland Deputy Chief Constable Fiona Taylor said: "Our thoughts remain with Sheku Bayoh's family and friends following his death and we continue to offer support to anyone affected by this tragic incident.
"We have been committed to cooperating with the PIRC and the Crown Office throughout this process and will continue to engage appropriately with any further proceedings."