Public 'more comfortable' with tattooed police officers than `air hostesses`
A survey has revealed that more than two-thirds of the public approve of officers with a visible tattoo.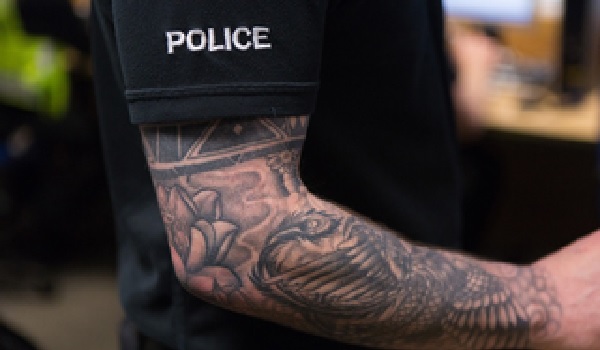 A survey has revealed that more than two-thirds of the public approve of officers with a visible tattoo. Commercial property surveyors Savoy Stewart asked members of the public how comfortable they would be with a person who has a visible tattoo in various occupations, with police officers placing third in the list. Athletes were top of the list with 88 per cent of the public approving, followed by chefs who received 81 per cent, and police officers with 73 per cent. Just 42 per cent of the survey respondents felt comfortable with a tattooed "air hostess", 44 per cent with a political figure and 49 per cent approved of primary school teachers with tattoos. According to the researchers, 48 per cent of police officers have a tattoo, 17 per cent of which are visible while in uniform. Savoy Stewart's survey showed that although three in ten 25 to 39-year-olds in the UK have tattoos, 54 per cent of recruiters think they have a negative impact on the workplace. And the common characteristics most associated by members of the public with people who have tattoos were rebellious, less intelligent and unhealthy. The figures support a recent survey carried out by the Police Federation of England and Wales (PFEW), in which 81 per cent of the public said they would have the same confidence dealing with an officer with a tattoo as they would one without. It also revealed just 55 per cent of officers felt comfortable working with a tattooed colleague. The PFEW then launched a campaign calling for national standardisation of appearance policies, rather than regional forces interpreting the rules themselves. On August 7, the College of Policing published new guidance telling forces to consider a tattoo's "size, nature and prominence" when deciding if an officer should be allowed to have it on show. It also advises officers to consider how a tattoo will be perceived before deciding to get a new one. The PFEW said the new guidance provides "officers and staff with clear direction on their appearance, so that they present a professional image while also being allowed some self-expression." Forces previously based their policies on guidance from the Home Office, which said "officers should not have tattoos which could cause offence". However, the PFEW argued this was being interpreted differently across England and Wales.