PSNI says burning of dead officers' names being treated as hate crime
A hate crime investigation has been launched after the names of murdered police and prison officers were burnt on a bonfire in Derry/Londonderry.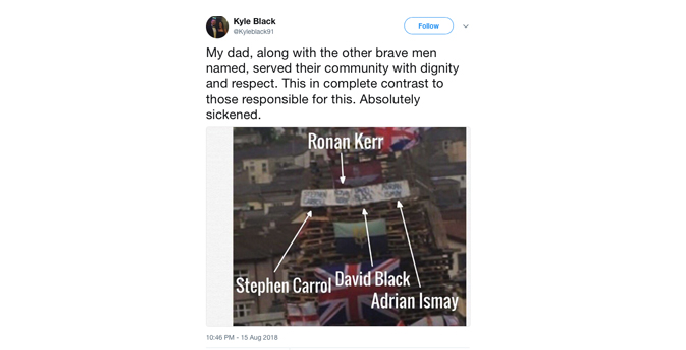 The Police Service of Northern Ireland (PSNI) was called to reports of distasteful material being placed on a bonfire in the city on August 15. 
A board painted with the names of the PSNI, Royal Ulster Constabulary and Northern Ireland Prison Service officers' names, including Stephen Caroll – the first PSNI officer to be murdered since the PSNI's formation – was placed on the fire. 
The PSNI confirmed that it "is treating this as a hate crime" and appealed for information on the perpetrators. 
Three petrol bombs were also thrown at the police throughout the course of the night.  
A 35-year-old man has been charged with making, possessing and throwing a petrol bomb. 
Loyalist and republican groups have been accused of causing chaos over the summers in Northern Ireland by lighting bonfires. Two bonfires had to be controversially taken down in East Belfast this summer by the PSNI after they were deemed unsafe.  
Kyle Black, the son of prison officer David Black, who was murdered by dissident republicans in 2012, tweeted that he was "absolutely sickened" by the inclusion of his father's name.  
Chief Inspector Paul McCracken said: "We are treating this as a hate crime and we are seeking to identify those responsible, and I would ask anyone with information that can help identify the perpetrators to contact us.
"We take hate crime very seriously and actively investigate all incidents reported to us. Hate crime is wrong on all levels and the PSNI will do everything it can to ensure that everyone, from whatever background, can live free from prejudice, fear and discrimination.
"The responsibility for the conduct of bonfires rests primarily with the respective landowner. The role of the PSNI is to work with landowners and other relevant partners and communities, at their request, to assist them in providing for public safety. Where such requests are made, police work with and support landowners, partners and communities to find workable solutions to the issues as they arise across the District." 
SDLP councillor Colum Eastwood and former Mayor of Derry/Londonderry said: "Totally appalled to see flags, poppy wreaths and the names of murdered policemen on a bonfire in Derry. Rep[resentative]s from all parties and youth workers tried to stop it. This nonsense doesn't represent the views of the people of Derry. It's sectarian and anti-social. Nothing more."