PSNI chief constable issues 'bleak' warning that service will shrink due to funding shortfall
The chief constable of the Police Service of Northern Ireland (PSNI) has warned that officer numbers will fall to their lowest since the force was formed because of a "stark" funding shortfall.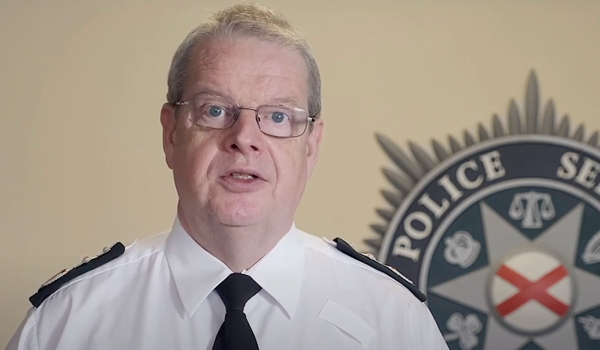 Simon Byrne said fewer officers means the capacity to investigate crime may be reduced and it may have to prioritise investigations.
Briefing officers and staff on Thursday (January 26) on the "challenging budgetary situation" facing the PSNI, Mr Byrne said there will be a funding shortfall of around £80 million by March this year, with bigger shortfalls in the years to come.
As a result, the PSNI is going to "shrink" over the next three years, he said.
"By March there will be 309 fewer police officers and 115 fewer staff, a reduction of nearly six per cent," said Mr Byrne.
"We will then have 6,699 full-time officers. This is 800 officers fewer that the commitment made in the New Decade New Approach Agreement and the lowest officer numbers since the PSNI was formed.
"This reduction comes at a time when our population is growing, when workloads are increasing, becoming more complex and crime is rising.
"Police are already making difficult choices every day to minimise the risk to the public and to reduce the harm these reductions pose."
Mr Byrne said "as far as possible" it had minimised the impact on service delivery in 2022, "but through 2023 these reductions will have real and noticeable impacts".
He said the impact will be felt in communities across Northern Ireland.
His assessment is:
Non-emergency calls to the PSNI may take longer to answer and at times the public may have to wait longer for officers to attend non-emergency incidents;
Fewer officers investigating a rising number of crimes may mean slower investigations and in some cases a less satisfactory service to victims;
The PSNI will have to prioritise investigations, with "knock on delays" for the criminal justice system;
The neighbourhood policing function is shrinking;
There will be a reduced proactive presence on our roads despite rising road deaths;
Access to, and closure of, police stations across Northern Ireland will be "actively reviewed";
The ability to respond to sustained protest and public disorder may be reduced; and
To protect core functions the ability to support other public sector colleagues may reduce.
"The message we delivered today is a bleak one. Inevitably with less police there will be less policing," said Mr Byrne.
"In spite of this, as a police service, our core work will not change. The public can continue to have confidence that we will still answer 999 calls quickly, we will continue to patrol our neighbourhoods, we will continue investigate high harm crime and bring offenders to justice.
"The police service is a 'can do', practical organisation. I want to acknowledge and thank our people for their resilience, flexibility and commitment. They are used to solving difficult problems and meeting challenges head on.
"We will innovate and work in smarter ways to ensure that our resources are put to the most effective use for the community we serve. We will continue to invest in technology and be ruthless in cutting out bureaucracy."
He added: "While there will be no redundancies, all parts of the police service are going to see significant change in the coming months as we restructure to minimise the risk to service delivery in priority areas.
"Working alongside our staff associations and trade unions the Service Executive Team will do all we can to support officers and staff in the coming months. Officer and staff welfare and wellbeing will remain a priority.
"It is not our intention to cause alarm. However, we want to be clear with the public and our staff about the type of service they can expect to see in the coming years.
"We will continue to serve the people of Northern Ireland with professionalism and remain committed to delivering a visible and impartial human rights based policing service. We will continue to protect the public in Northern Ireland to the very best of our ability."
Mr Byrne stressed that the PSNI will protect its core emergency incident response and statutory functions and continue neighbourhood policing.
It will also protect "areas of significant risk", such as public protection, which incorporates domestic abuse, sexual crime and child abuse, and understand "the impact upon the welfare and wellbeing of our officers and staff".
However, as a result of the first round of budgetary cuts, by March 2023 Mr Byrne said reductions will include:
75 fewer neighbourhood police officers;
96 fewer detectives investigating murder, terrorism, drugs and organised crime;
97 fewer officers in the Operational Support Department, which includes roads policing and specialist search/public order teams of the Tactical Support Groups; and
115 fewer police staff across other roles.
More than £30 million of non-pay reductions this year will also have significant impact, said Mr Byrne, including:
A reduced vehicle fleet. Damaged or broken police vehicles will wait longer for service or repair;
Deferred building and maintenance work on a crumbling estate; and
Other modernisation plans – digital and estate – will be deferred.
The Northern Ireland Policing Board (NIPB) was updated on the "profoundly challenging budgetary situation facing the PSNI by Chief Operating Officer Pamela McCreedy and Deputy Chief Constable Mark Hamilton.
Responding to the resourcing and delivery implications of financial pressures facing the PSNI, NIPB chair Deirdre Toner said on Thursday: "Over the last year, the board has been deeply concerned about the funding shortfall for policing and the implications of this, particularly in respect of numbers and service impact.
"The board fully supported the chief constable in seeking to secure an improved financial settlement from the Department of Justice for the Police Service.  However, without additional monies , the outworkings of budgetary pressures on officer and staff numbers has now been outlined in stark detail along with an assessment of the extent of the impact across a range of areas.
"The chief constable and his leadership team have worked to protect key areas, but the service assessment is clear that these levels of reductions will undoubtedly be felt within policing, within partner agencies and within particular aspects of service delivery to the community. These will only become fully known as we go forward."
She added: "Despite the reductions confirmed, it is important to note that there is still a significant resource available to policing in Northern Ireland so the board, like the chief constable, would want to assure the public of the commitment within policing and within the board to doing the best with what we have.
"We are all very aware of the importance of policing within our community, and the wide range of work that the service delivers.
"While today's announcement confirms a position we hoped could have been avoided, our focus now has to be on continuing to work with the chief constable and his team on minimising the organisational risks to policing going forward, alongwith supporting the change and restructuring now required as a result of these financial pressures."
She said they will be discussing this matter further with the chief constable at the board meeting on February 2.
The chair of the Police Federation for Northern Ireland said there must be a "unified and all-out campaign to fight the deep and damaging cuts in the police budget".
Describing the news as "shocking", Liam Kelly said: "Policing here is being asked to bear the brunt of draconian cuts. We will see fewer officers and a marked deterioration in services to the general public if these swingeing cuts go ahead.
"This is shocking news and it will have a devastating effect on each and every police officer in Northern Ireland.
"Our colleagues do their best for our communities and this is the thanks they get. The Government must be made aware of the depth of feeling that there is, not only from within police ranks but throughout this wider community.
"There has to be an outcry with all organisations and political parties singing from the same sheet. This is intolerable, potentially harmful and will impact badly on resilience and the ability to fight crime and counter the actions of terrorists."
Mr Kelly added: "I am appealing to the political parties to organise a crisis summit and to come up with a single and strong message for the Government. I am also asking all other groups to engage in an intensive lobbying of Ministers involving writing letters of protest alongside a demand to halt the cuts.
"This is now a perfect storm with a cost-of-living crisis that's the worst in living memory, no pay or incremental awards, a ban on recruitment and hundreds of officers preparing to leave the Service by the end of the financial year in March.
"The Government clearly doesn't respect what we do and sees us as low hanging fruit because we are unable to take industrial action to press home our case.
"If the aim is to create a sub-standard service, then Northern Ireland Government departments, particularly Finance, are going about it the right way."