PSA President 'overwhelmed' by support as he smashes his fundraising target for PAMT
Chief Superintendent Paul Griffiths, president of the Police Superintendents' Association (PSA), says he has been "overwhelmed" by the support he has received during his annual charity challenge.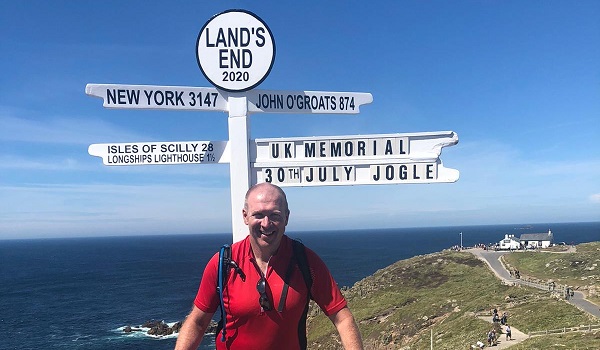 On Saturday July 18, he set out to cycle the famous route between John O'Groats and Land's End, covering over 950 miles, completely unsupported.
The ride was in aid of the Police Arboretum Memorial Trust (PAMT) – of which Chief Supt Griffiths is a trustee – which is in the final stages of an ambitious campaign to raise at least £4 million to design, build and maintain a new UK Police Memorial, at the National Memorial Arboretum, the UK's year-round centre of Remembrance.
Having set out to raise £1500 for the charity, his total now stands at more than £3,500, and will reach over £4,000 with gift aid contributions.
Chief Supt Griffiths was also able to visit the National Arboretum site during his journey. Fellow trustee, Sir Paul Scott-Lee, met him at the site to mark his challenge and to offer his continued support.
"I set myself a challenge for charity every year. Every year they're tough, both physically and mentally, but this was particularly hard, as I wasn't able to train due to the constraints and demands of the pandemic," said Chief Supt Griffiths.
"I was regularly posting updates via Twitter and I have been completely overwhelmed by the support I've received.
"From much needed food and drink, help with bike repairs, cycling with me, drop offs, collections to kind words of encouragement, I have been helped and supported at so many points throughout the 950 miles.
"This support from the police family has been humbling, and alongside the 'virtual' support I've received online and via the phone, it made the challenge so much more bearable. To have smashed my fundraising target makes every mile worthwhile and I hope it will help towards the fantastic work of PAMT, which now, more than ever, is of vital importance to recognise the work and sacrifices of the police service."
Sir Hugh Orde, chair of the PAMT, said: "This is an amazing achievement by Paul and I cannot thank him enough for his sterling efforts. To raise so much money is a great success. I would like to thank all those who have donated and sponsored Paul during his epic adventure."
Donations to the charity can still be made at https://justgiving.com/fundraising/Paul-Griffiths2020.
To find out more about PAMT, visit www.ukpolicememorial.com/the-trust