Prime Minister criticised for "electioneering" during police recruitment event
Senior figures from West Yorkshire Police have strongly condemned Prime Minister Boris Johnson for his "totally inappropriate" use of police officers for "a rant about Brexit" during a visit.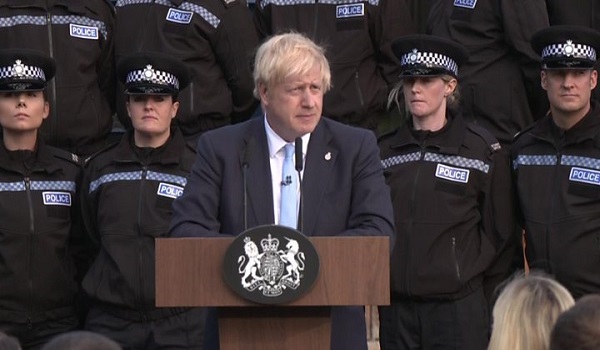 The force had agreed for its officers to be used on the "understanding" it would be in connection with the Government's police recruitment drive and had "no prior knowledge" that the speech would veer into politics.
Both Mr Johnson and Home Secretary Priti Patel had attended the Carr Gate training and development centre in Wakefield to announce the launch of the national recruitment campaign for an extra 20,000 police officers.
The visit had originally been intended to have four elements: a visit to the Mounted Section; an informal meeting with new student officers; a five minute speech by the Prime Minister followed by media questions to launch the recruitment campaign; and a visit to the National Police Air Service (NPAS) base where the Prime Minister was to deliver a ten minute speech to the media, without police officers present.
However, moments before announcing the start of recruitment campaign, West Yorkshire Police was told the NPAS visit and second speech had been cancelled.
Stood in front of 35 uniformed officers on a raised platform behind him, Mr Johnson seized the opportunity to make repeated criticisms of the Labour leader.
Mr Johnson was scheduled to speak at 4pm. Police officers assembled on the stage at around 4.45pm but the Prime Minister did not take to the stage until 5.18pm and spoke for more than 20 minutes.
In the final moments of his speech, one trainee standing directly behind him put her hand to her head and sat down on the floor, apparently unable to stand any longer.
At this point Mr Johnson looked behind him and asked if the trainee was alright. As the officer then took a seat with her head bowed, he said: "I'm so sorry, OK that is a signal for me actively to wind up." But he then continued to criticise Labour leader Jeremy Corbyn for not backing his plans for a snap general election for several more minutes. He left the stage at around 5.40pm, meaning the officers had been standing for almost an hour.
West Yorkshire Police & Crime Commissioner Mark Burns-Williamson said Boris Johnson had "abused" the police force's position. "For him to then use trainee police officers as the backdrop to what became a political speech was totally inappropriate, those officers and West Yorkshire Police should not have been put in that position.
"A visit from the Home Secretary which originally started out as a discussion about the plans for police recruitment, clearly turned into a rant about Brexit, about the opposition and appeared to be blatant electioneering, which was completely unacceptable as a last minute hijacking of the visit by Boris Johnson," Mr Burns-Williamson said.
"The news of the recruitment drive and the acknowledgment of how officers and staff have suffered with austerity was completely lost because he was only interested in getting his own agenda across. There is no way police officers and staff, who clearly thought it would be all about police recruitment announcements, should have formed a backdrop to a speech of that nature.
"I have asked Chief Constable John Robins for a full explanation around what happened and he is already aware of my dismay and wider concerns this has created and that the public and the media saw through the attempts by Boris Johnson to cloak his political speech under the guise of police recruitment announcements," added Mr Burns-Williamson.
Chief Constable John Robins said: "I am pleased that we were chosen as the focal point of the national recruitment campaign launch, but the good news of extra officers was overshadowed by the media coverage of other events.
"It was the understanding of West Yorkshire Police that any involvement of our officers was solely about police officer recruitment. We had no prior knowledge that the speech would be broadened to other issues until it was delivered.
"Minutes before the speech, we were told that the NPAS visit and subsequent brief to a small media pool had been cancelled. I was therefore disappointed to see my police officers as a backdrop to the part of the speech that was not related to recruitment.
"I am proud of the resilience and professionalism of every single one of our student officers yesterday. With the recruitment of additional officers alongside them over the next few years, we will hopefully be in a better position to now deliver the service that the public deserve and expect."
John Apter, chairman of the Police Federation for England and Wales, said: "I am surprised that police officers were used as a backdrop for a political speech in this way.
"I am sure that on reflection all concerned will agree that this was the wrong decision and it is disappointing that the focus has been taken away from the recruitment of 20,000 officers."
Shadow Home Secretary Diane Abbott criticised Mr Johnson over the incident. She tweeted: "Johnson kept these trainees waiting on their feet, and unsurprisingly, one of them appears to have felt faint. He saw that happen, and he ignored it. Tells you everything you need to know about this man – and how much he really cares about the police service."
Stephen Doughty MP, a Member of the Home Affairs Committee said: "This blatant attempt to use large numbers of our brilliant hard-working police officers as photo props in a party election stunt is shocking, crass and inappropriate."
On the afternoon of Friday, September 6, the chair of the Home Affairs Committee, Yvette Cooper MP, wrote to the secretary of the Cabinet Office with a series of urgent questions related to the incident.
Ms Cooper drew attention to Paragraph 1 of Schedule 1 of The Police Regulations 2003 that requires police officers to "abstain from any activity which is likely to interfere with the impartial discharge of their duties or which is likely to give rise to the impression amongst members of the public that it may so interfere; and in particular a member of a police force shall not take any active part in politics."
She demanded to know which government ministers were involved in overseeing the organisation and management of the event; whether the changes to the event were authorised by the Cabinet Office; where the office is satisfied that the Ministerial Code and relevant guidance concerning impartiality were adhered to and how many officer work and training hours were lost as a result of the event.
Ms Cooper finished her letter saying: "Given the urgency of this matter, I would be grateful for your response by Monday, September 9."