Preferred candidate for chief constable chosen following public process
Bedfordshire Police's new chief constable has been selected after "one of the most testing and transparent selection processes in policing".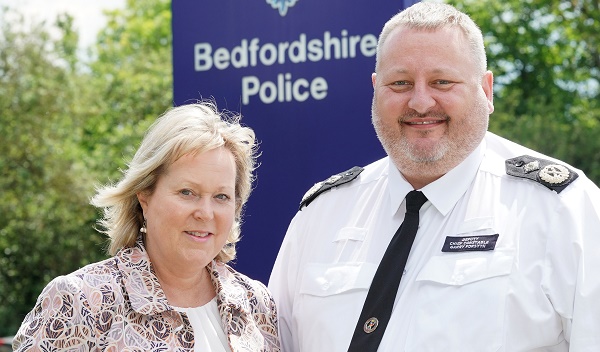 Garry Forsyth was chosen as the preferred candidate to take over from Jon Boutcher in July.
Three candidates were tested through mock media interviews and quizzes which were all open to the public to view.
Successful applicants also had interviews on a one to one basis with the police and crime commissioner (PCC) Kathryn Holloway, assisted by the most experienced chief constable in England and Wales – Andy Marsh – Chair of the Bedfordshire Police and Crime Panel Paul Cain, Bedfordshire Fire and Rescue Service Chief Paul Fuller and local businessman and house building developer Steven Smith.
Mr Forsyth emerged as the front runner across all sections of the assessment day, which included a presentation of his vision for the force in front of a live audience including members of the Bedfordshire Police workforce, the Police Federation, volunteers from Neighbourhood Watch, councillors and faith and community group representatives.
The event was live streamed on the PCC's Facebook page, with both online and physically present audiences contributing to the assessments.
The fairness of the selection process was independently assessed by Montell Neufville of Bedfordshire's Stop and Search Scrutiny Panel who will also submit a report to the Police and Crime Panel.
Mr Forsyth was previously deputy chief constable at Humberside Police before transferring to Bedfordshire at the same rank in 2017.
He began his service with Northamptonshire Police in 1994, before moving to Leicestershire Constabulary, the Metropolitan Police Service and then to West Midlands Police as assistant chief constable.
He is familiar with ground-breaking recruitment processes, which saw him make the news for his appointment in Humberside, a process that required applicants to send in selfies along with their CV.
Commenting on the news, Mr Forsyth said: "I am absolutely delighted to be selected as the PCC's preferred candidate to become the next Chief Constable of Bedfordshire Police. It was an extremely challenging and demanding process with strong competition from two excellent chief officer colleagues, so to come out as the successful candidate is a hugely proud moment for me both personally and professionally."
Ms Holloway said: "I'm absolutely delighted to select Garry as my choice to be the next chief constable of Bedfordshire, subject to confirmation by the Police and Crime Panel, as the law requires. He was outstanding throughout the entire process and it's hugely important to me that the public and the Bedfordshire Police workforce know that their next chief is being selected entirely on the basis of his own merit.
"That's why this had to be such an open and transparent process, with the public involved and the widest possible audience, all able to assess the candidates for themselves. A chief constable needs exceptional social skills – hence the one to one interviews at the start – and these days needs to be able to think strategically and assess business cases, which is why a representative from the business world was essential. He or she also needs to be able to communicate with all our communities equally, as a credible spokesperson, which is why the media testing was also necessary."
Mr Forsyth added: ""It's a real privilege to be successful in the selection process for chief constable of Bedfordshire Police and I am excited at the prospect of leading this fabulous force to continue the success we have seen in recent times."
"There is still a lot to do, and I am committed to working closely with colleagues across Bedfordshire Police, our communities and with partners to strive to deliver the policing service our residents want and deserve."
The appointment is now subject to a confirmation hearing before the Bedfordshire Police and Crime Panel.
He is due to take over when Mr Boutcher, who is currently one of four people shortlisted for the Police Service of Northern Ireland chief constable vacancy, steps down in July.