Power of mass notifications
Following the 2016 Rio Olympics, Nick Hawkins discusses how critical communications platforms can help blue light services improve security procedures.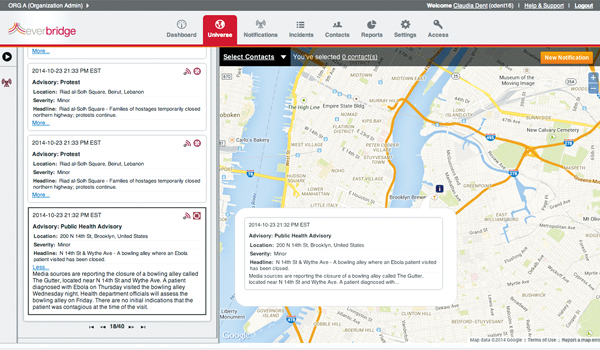 Following the 2016 Rio Olympics, Nick Hawkins discusses how critical communications platforms can help blue light services improve security procedures.
The past year has seen an increased number of large-scale acts of terror in Europe. Figures from the Global Terrorism Database (GTD) show that since 2012 there has been a rise in the number of deaths from terrorist attacks around the world. In 2015, 136 people died in the Paris attacks, 32 in Brussels and 84 on Bastille Day in Nice. In the event of such an emergency, effective communication is crucial. But how can blue light services ensure the safety of citizens and tourists and communicate with colleagues to guarantee timely responses to crises?
What can we learn from the 2016 Rio Olympics?
The recent Olympic Games is a good example of a country needing to adapt to an influx of overseas visitors. The 2016 Rio Olympics and Paralympics in Brazil were a celebration of sporting excellence and culture. However, following a series of riots, criminal gang activity and the continued threat of the Zika virus, the event was overshadowed by questions of health, safety and security.
The Games saw 1.17 million 'tourists' descend on Rio – made up of athletes' families, media personnel and sports fans. For most, traditional mobile phone communication was the primary contact channel used to stay in touch with friends, family and employers. However, mobile phones were the primary target for criminals with more than 8,000 robberies in Rio during June – up from 800 in May.
Multimodal, critical communications platforms
Reliance on a single form of communication will not work at high-profile, high-footfall events. It is important that police, ambulance and fire services – as well as the military – implement a multimodal, critical communications platform to prioritise the safety of spectators, athletes and staff to ensure they can communicate with people inside the stadium in the event of an incident.
No single communication delivery path ever reaches 100 per cent of the people, 100 per cent of the time – particularly when mobile phone theft is widespread.
Communications platforms should use every available contact path until delivery is acknowledged. Everbridge, for example, can communicate via more than 100 different contact paths. This could range from digital signage at events to warn of overcrowding and re-direct spectators when an emergency occurs, to social media warnings or push notifications in [for example] the Rio 2016 app to warn tourists to change their journeys if safety is compromised at a venue.
It could be argued that the impact of crises in Rio could have been limited if visitors had been communicated with more effectively. The Zika virus was controlled throughout the Games, however, tourists and athletes expressed concerns in the run-up to the event. A mass notification system could have been used by medical services throughout the Olympics to inform attendees of preventative measures recommended by the Center for Disease Control and Prevention (CDC).
An example of a successful communications programme at a major sporting event was Super Bowl 50. In February 2016, the City of Santa Clara Police Department used the Everbridge mass notification platform to manage all communications in the lead up to, during and after the Super Bowl. With 1.1 million people in attendance, emergency services, local authorities and organising bodies ensured visitors were kept up-to-date with the latest travel information, such as rail or road closures, live traffic and parking updates, weather news, and any emergency alerts that required immediate action. All visitors and residents had to do was text SB50 to opt-in for this information.
Two-way communication – are you safe?
Responses received via mass notification platforms can be measured by answers such as 'safe' or 'not safe' – combined with location data pulled from wi-fi or ticket scanning that can establish who is impacted in a crisis.
For instance, if a fire broke out