'Policing services will disappear in some rural areas'
Lincolnshire Police is set to make drastic cuts to officer and staff numbers if it does not receive additional funding in 2019, its chief constable has warned.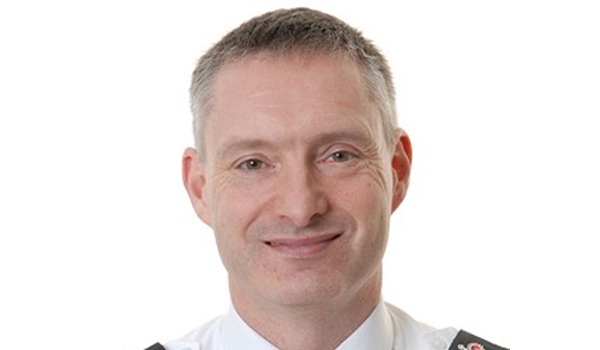 Bill Skelly claims that reserve accounts have been drained to maintain services in the current year, leaving the force with dangerously low levels of funds for contingencies.
He gave the stark warning that if the force is unsuccessful in gaining an increased budget a number of rural areas will be left without any policing services beyond the 999 response.
Lincolnshire Police will have a shortfall of £3.5 million next year and almost £7 million in the following years.
Publishing the force's first Force Management Statement (FMS) today (September 25), he said these savings cannot be achieved without serious degradation of service.
The only way to balance the budget "will be by workforce reductions which will have an adverse impact on service delivery to the public", the FMS states.
"The savings plan includes reductions across all categories of the workforce, police officers, PCSOs, police staff and operational support and back office staff contained within the strategic partnership contract with G4S."
Reductions include approximately 56 officers within the Dogs section, trunk road policing, volume crime investigation and response and neighbourhood policing.
The FMS warns that the existing rank structure will also be reviewed with a view to reducing the number of sergeants and inspectors, and possibly more senior roles.
"These changes will reduce the resilience of the force to respond to major incidents and presents an increasing risk in meeting rising demand," it adds.
Police community support officer numbers will need to be reduced by over 40 per cent to 67 and police staff costs will have to be cut by ten per cent, equating to approximately 30 posts at average salary cost.
There would also be a need to reduce the total G4S outsourcing of control room and back office services contract value by four per cent, requiring a further loss of staff.
Areas identified for review include town enquiry officers and the Force Control Room, which the FMS says will affect public facing service delivery.
The warning of drastic workforce reductions comes at the same time as neighbouring Humberside Police, which covers the north of Lincolnshire, is recruiting at an unprecedented level and expects to have 450 more officers at the end of 2018 than it did in May 2016.
Speaking to Police Professional, Mr Skelly said Lincolnshire Police has been reassured over many years that inequalities in funding – it receives the second lowest grant per head of population – would soon be resolved.
The Government has planned to revise the formula for allocating grants but the general election in 2016 put the process on hold. Discussions are now being held over a timetable for possible changes but are not expected to be implemented until at least 2020/21. The Government, the National Police Chiefs Council and the Association of Police and Crime Commissioners are now focused on the Comprehensive Spending Review and the Home Office is conducting a Front Line Review to provide evidence that policing requires a larger amount to share between forces, rather than redistributing what is already received.
Mr Skelly said: "We have been told for some time the [funding] cavalry is on its way but it hasn't left the fort yet, I am not expecting it very soon."
The force has managed to balance its budget as a result of reserves carried over a number of years but that account has been drained. Having taken out the last £5 million to support the 2018/19 budget, Mr Skelly said he is left with no choice but to reduce the headcount to balance next year's budget.
Reserves are now at a dangerously low level and "that barrel has been scraped dry", he said.
The force and PCC are seeking a special grant to tide them over until the the distribution formula is revised. Mr Skelly said this is not unprecedented as the Home Office recognised the unique position Lincolnshire Police was in several years ago and made a one-off £4 million payment to help it survive, at a time when warnings were being issued that the force was in danger of being left "unviable".
"If we received around £5 million, the impact [of the funding shortfall] would be much less than I am setting out," Mr Skelly added.
Without any additional support, he warned that policing services could disappear in some rural areas of the county where they are already extremely stretched.
"If you take away one or two people from some of the areas I've got, then there is literally nobody there, and that community does not have a service beyond a treble-9 response."
The FMS examines the demands for service now and over the next four years, as well as the state of the force's assets to meet those demands. It shows that in Lincolnshire Police's demands are increasing and becoming more complex, while resources will be cut. The shortfall in funds to meet demands is therefore growing, Mr Skelly says, partly due to other partner services not dealing with the non-crime issues that the police are forced to assist with, or are withdrawing from dealing with them, such as mental health and wellbeing.
Just yesterday, the force responded with blue lights to a community alarm, that turned out to be an old lady simply wanting help to make a cup of tea.
At the same time, cyber crime and the digital aspects of traditional crime require the force to provide a more appropriate response.
All forces are now recording many more incidents as crimes, as a result of the drive for more ethical crime data, but that means there is increased demands from cases that have no possible investigative outcome.
There are also higher expectations placed on the police from the courts and Crown Prosecution Service in terms of the speed and quality of reports and case files.
"They are all out of step with an environment in which resources are being reduced and it puts more pressure on people who are already feeling the stress," Mr Skelly said.
"The whole system has a real challenge about the financial position. This is exacerbated in Lincolnshire Police which has long distances to travel and very few people to do it."
2018 is the first year that forces have produced Force Management Statements. Some have published the full versions online, some have issued redacted or shortened versions.
In his role as chair of the NPCC Performance Management Coordination Committee, Mr Skelly is due to lead discussions on the production of the statements at the Excellence in Policing conference this week, which will be featured online and in later editions of Police Professional.