Policing protests at the G7 summit will be challenging, officers say
Policing protests taking place around the G7 summit in Cornwall will be "challenging", officers have admitted.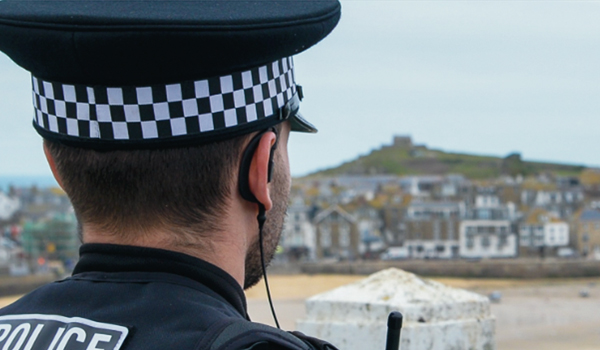 Devon and Cornwall Police confirmed that around 40 groups have contacted the force to confirm their intention to protest at the event, which takes place at the Carbis Bay Hotel from Friday to Sunday.
However, a number of other groups – including those forming the Resist G7 Coalition – have said they will not liaise with police.
Over the past week, 5,000 mutual aid officers have arrived in the area from forces across the UK. They will join 1,500 officers and staff from Devon and Cornwall Police being deployed at the event.
More than 100 police dogs will be working at the G7 summit, although no police horses are due to be there.
Inspector Nathan Johnson, of Devon and Cornwall Police, said officers would be facilitating peaceful protest, which he described as "in the very fabric of the United Kingdom".
"We want people to be able to protest and protest in a manner that doesn't disrupt Cornwall," Insp Johnson said.
"I have to get the balance between ensuring people's human rights around protest happens but also ensuring people's human rights around going about their daily business happens.
"The big challenges for us are groups who don't want to engage with the police.
"I think that's a real shame because we'd like to be able to engage with them, to explain what's acceptable and what's not, so that when we do step in and arrest someone because they're doing something we've all agreed is not acceptable, it's no surprise.
"The geography of Cornwall is challenging. We know in the summer that it can get really busy without protests."
He said officers would be "ready to respond" if peaceful protest changed into activism such as protesters attempting to lie across the M5.
"You can't climb into a venue, you can't lie in front of the president's convoy and you can't block our main arterial route," Insp Johnson said.
"But you can have your voice heard elsewhere. You can be on the side of the road with your banners, you can be loud, you can be annoying, so long as you don't block a route, climb into a venue or lie across our main arterial network."
Designated protest sites have been set up in Truro, Falmouth, Plymouth and Exeter, but many protesters are expected to go to the St Ives and Carbis Bay area.
The exact number of protesters due to head to Cornwall is unknown, but even 500 would be "significant" for the area, Insp Johnson said.
Extinction Rebellion (XR) expects 1,000 protesters to make their way to St Ives, including for a march through the seaside town on Friday.
On Saturday, protesters from the environmental campaign group will march through Falmouth – where the world's media will be based – before returning to St Ives on Sunday for a day of beach-based actions.
Previous XR actions have seen traffic chaos in central London in 2019 and disruption to newspaper distribution in 2020.
A Kill the Bill demonstration – campaigning against the restrictions on protest contained in the Police, Crime, Sentencing and Courts Bill – is also due to take place in Cornwall on Sunday.
"Cornwall is going to be busy – we're going to have crowds who are down enjoying the summer, we've got businesses opening ready for the summer," Insp Johnson added.
"We've got the press, we've got the G7, we've got tourists, we've got protesters – that's a lot of people going to be in Cornwall so we don't need very many to cause us some challenges around how we keep the road network open and keep things moving."
Officers dealing with protest will be from a range of backgrounds, such as neighbourhood policing, child protection or youth offending, that have completed extra training in public order.
"They're normal cops from all over the country coming into Cornwall to deal with what's going to be challenging, they're going to be dealing with people who will be actively trying to get into the media by doing something that ultimately probably won't stop a summit but will just stop the local residents and local businesses of Cornwall trying to open up for the summer," Insp Johnson added.
The gathering of world leaders is the biggest security operation ever carried out by Devon and Cornwall Police.
A temporary communications mast has been installed in St Ives by Motorola Solutions to provide additional support to the Airwave network.
The existing masts in the area do not have sufficient capacity to support the extra use that will be required for the thousands of officers and emergency service staff who will be deployed during the G7 Summit.