Policing Minister: "We don't want to go back to the bad old days of stop and search"
Policing Minister Nick Hurd told the House of Commons today (November 12) that the Government has no plans to change the reasonable grounds required for stop and search but wants it to be used as a key tool as part of "robust policing" when authorised.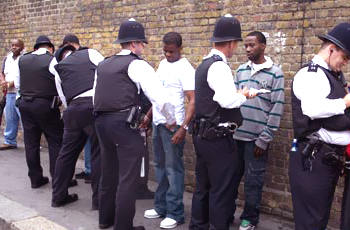 He also warned there was evidence that officers had lost some confidence in using stop and search, which he himself had witnessed while out on patrol in Liverpool and other places, and this had to be addressed. 
Sir Mike Penning MP said if the chiefs and the College of Policing do not tell officers about the effectiveness of stop and search, there will be "continued fear from officers to use stop and search, which is intelligence-led". 
Mr Hurd confirmed that the Government was keen to reduce the amount of bureaucracy connected with stop and search powers, and that it was working with the police service to achieve this. 
He also said that there was a lot to learn from Scotland's approach to dealing with violent crime, "as there has previously been from London, Cincinnati, Seattle and other places". 
The debate was in response to an urgent question asked by Afzal Khan MP regarding stop and search powers being widened to omit the need for reasonable grounds of suspicion, which has been reported in several publications since Friday (November 9). 
Mr Khan said that the current policy introduced by the Prime Minister Theresa May when she was Home Secretary – which has led to a big reduction in the number of stop and searches in England and Wales – "was based on evidence, not on easy headlines". 
My Khan added: "Random stop and search doesn't work, and we have evidence to show that it poisons police/community relations." 
Mr Hurd said while stop and search has proved a valuable tool in policing gang and County Lines criminality, there were no plans to widen the powers.   
Mr Hurd also highlighted the severity of the black-on-black youth knife crime epidemic in London today, saying: "The tragic faces staring out at me in the London Evening Standard are overwhelmingly those of black boys." 
And Trevor Phillips, the former chair of the Equality and Human Rights Commission, told the Telegraph on Sunday (November 11) that police officers "should be exempt from race discrimination laws in order to target black youths in high crime areas". 
David Munro, the Assocation of Police and Crime Commissioners lead on equality, diversity and human rights said it was "absolutely right that senior police officers use their wide experience and judgment to examine critically all their powers and duties, consulting with the communities they serve to find new and innovative approaches to keep everyone safe".  
Mr Munro, the police and crime commissioner for Surrey, added: "I welcome that the Government is looking to work with the police to reduce bureaucracy and increase efficiency in the use of this power.  
"I also welcome moves to explore new approaches to tackle the appalling increase in knife crime in London, such as taking a 'public health' approach to those caught with a knife, providing them with education on the risks of carrying a weapon, rather than a criminal record. 
"We have seen an increase in effectiveness in stop and search over the past few years – last year, 17 per cent of stops under the Police and Criminal Evidence Act 1984 led to an arrest, the highest rate since data collection began. However, statistically those who identify as black and minority ethnic (BME) are four times as likely to be stopped and search than those who identify as white; meanwhile those who identify as Black are nine-and-a-half times more likely to be stopped and searched." 
Mr Munro warned that any changes must "bear in mind the impact they could have on BME communities", adding: "We must not return to the practices of a decade ago, when stop and search was used with much greater frequency than it is now, was poorly regulated and used much more indiscriminately. 
"Stop and search remains a vital police weapon in the fight against crime. When it is properly targeted, regulated, and intelligence-led -as is generally the case now – it contributes well to making all our communities safer. I look forward to working with colleagues across policing and our communities, to ensure that this power continues to be used effectively, efficiently, and proportionately." 
A spokesperson for the National Police Chiefs Council Spokesman said: "Stop and search is an important power – we use it to prevent and detect crime, identify those who intend to cause harm, and disrupt serious and organised crime networks.  
"When used properly it is successful in removing weapons and drugs from the streets and gives forces an intelligence advantage for their investigations.  
"We regularly hold discussions with key partners, including government departments, civil liberties groups and others to discuss a variety of issues. These conversations enable us to consider the best ways to use our powers.  
"The reasonable grounds threshold was not discussed as part of these representations."