Policing 'revolution' gets airborne
Durham Constabulary is the latest force to start deploying unmanned aerial vehicles (UAVs) – more commonly known as 'drones' – to help with operational policing.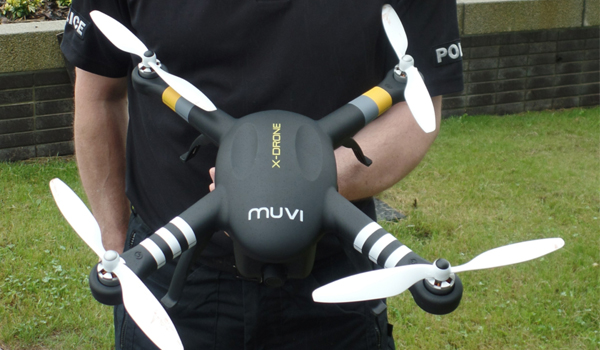 Durham Constabulary is the latest force to start deploying unmanned aerial vehicles (UAVs) – more commonly known as 'drones' – to help with operational policing.
The plan is for the drones to be used in situations such as helping in searches for missing persons, providing footage to assist operational contingency planning and reconnaissance of buildings or locations suspected of being used by criminal gangs.
The force says the drones could also be used at incidents such as traffic disruption when the police helicopter was unavailable or may not be able to fly due to poor weather.
Inspector Mick Button, force lead for the research and planning into the use of the drones, said formal training was carried out in the summer to authorise a small number of officers to use them.
The drones are able to record 1080p high-definition (HD) video and have a flight time of approximately 20 minutes. An in-built GPS (global positioning system) function means the drone can return to its launch point if control is lost, or if it detects a low battery.
A number of forces are conducting trials to assess whether the use of drones can bring benefits to the provision of the police service.
National Police Chiefs' Council lead for unmanned aerial systems, Assistant Chief Constable Steve Barry, has said some police forces were looking into the use of drones to see if they were "an effective and less costly alternative to traditional policing methods; such as aerial and foot patrols or CCTV".
He said trials were ongoing and the police service is developing national guidance for the use of drones.
"We are working with the Home Office on how drones might be used to enhance operational capability in law enforcement and counter-terrorist work, including for support for emergency response or for public order events. However, this is ultimately an operational matter for chief constables and any use would need to comply with existing Civil Aviation Authority (CAA) regulations," added Mr Barry.
Dorset's police and crime commissioner (PCC) believes drones could "revolutionise" policing in the same way that the introduction of police radios did in the 1960s.
"Look at how the portable two-way radios transformed policing in the 1960s – I believe drones have the capability to revolutionise the way we police in this country in a similar way, while saving a substantial amount of public money," said Martyn Underhill.
Dorset Police is one of a small number of forces across England and Wales that already uses drones, sharing four with neighbouring Devon and Cornwall Police in an arrangement that has been fully licensed by the CAA.
They are used to help officers in investigations by taking HD aerial photographs, recording videos and mapping, for example at crime scenes and road accidents, and also assisting in the search for missing persons.
A HD downlink allows officers on the ground to see 'live' footage captured by the drone, which can stay airborne for up to 18 minutes before needing to change battery. Each drone has several standby batteries, allowing it to be kept operational for a prolonged period of time if required.
Dorset Police and Devon and Cornwall Police have now achieved 'certification' for the surveillance cameras on their drones, which have to comply with the surveillance camera code of practice.
They are the first forces to have their drone use certified by the Surveillance Camera Commissioner through his third party certification scheme.
After the successful training of two pilots, an official six-month operational trial was commissioned to find out how drones could be used within the police for both planned and spontaneous incidents, for example deploying a drone where a helicopter was too expensive.
Mr Underhill said: "I've seen first-hand how deploying drones at a road crash can reduce the impact on the public, especially in rural Dorset on the A35. Drones can capture 3D imagery and information from the scene in minutes rather than hours, and roads can be reopened much quicker.
"