Federation says lack of vaccine priority is 'utter betrayal'
Police officers will not be given any form of priority for the Covid-19 vaccination as doing so could slow down the programme and leave some vulnerable people at risk for longer, the Joint Committee on Vaccination and Immunisation (JCVI) has announced.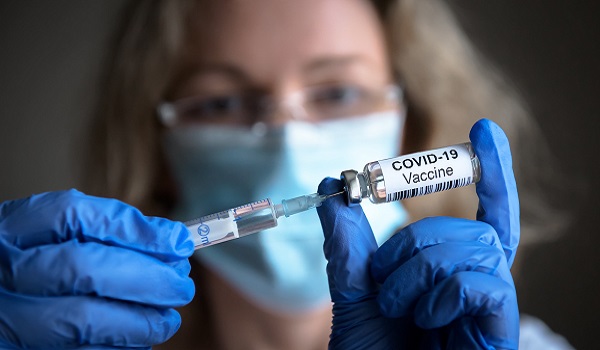 The JCVI said it had considered whether groups such as teachers and police officers should be vaccinated next, but concluded that the most effective way to prevent death and hospital admission is to carry on prioritising people by age.
It said modelling studies for phase two of the vaccination programme also indicate that the speed of vaccine deployment is the most important factor in helping prevent severe illness and death.
This means that in phase two, priority will be given in the following order:
All those aged 40-49
All those aged 30-39
All those aged 18-29
These groups will be vaccinated once all those in phase one (the over-50s and most vulnerable) have received a jab.
National chair of the Police Federation of England and Wales, John Apter, said: "This announcement shows a complete lack of understanding about policing this pandemic and is an utter betrayal of police officers. My colleagues have been on the front line since the first national lockdown last March, risking infection and even death to keep the public safe.
"Together with others across policing, we have never said police officers should jump the queue but should be prioritised. It's right that the most vulnerable and health and care workers were vaccinated; but what about police officers who cannot mitigate against the risks of contracting and spreading this deadly virus? Yet the calls to prioritise policing have been ignored.
"The very nature of policing is unpredictable and means my colleagues often cannot socially distance. They are going into people's homes, going into hospitals, and having to get up close and personal when helping people or making an arrest.
"Many officers are reporting sick or self-isolating and our numbers are falling, sometimes dangerously low. We have also lost a number of colleagues to this virus too. Yet the Government continue to hide behind the science of the JCVI. What about a moral duty to my colleagues and their families?
"Giving police officers the vaccine would not only protect them and their families but also help prevent the spread of this virus. We are sick of warm words and no action by our political leaders who have demanded so much from policing during this pandemic. We will now explore every possible avenue open to us to protect our members from this deadly virus and this complacent government."
Professor Wei Shen Lim, Covid-19 chair for JCVI, said: "Vaccinations stop people from dying and the current strategy is to prioritise those who are more likely to have severe outcomes and die from Covid-19.
"The evidence is clear that the risk of hospitalisation and death increases with age. The vaccination programme is a huge success and continuing the age-based rollout will provide the greatest benefit in the shortest time, including to those in occupations at a higher risk of exposure."
A UK Government spokeswoman said the JCVI advice reflected the fact age remains "the strongest factor" linked to death and hospital admission and "the speed of delivery (of vaccines) is crucial."
She added: "All four parts of the UK will follow the recommended approach, subject to the final advice given by the independent expert committee. The UK Government remains on course to meet its target to offer a vaccine to all those in the phase 1 priority groups by mid-April, and all adults by the end of July."
The JCVI said that targeting occupational groups (such as teachers) would have been more complex to deliver and may slow down the vaccine programme, leaving some vulnerable people at higher risk for longer.
It also said that, operationally, simple and easy-to-deliver programmes are "critical for rapid deployment and high vaccine uptake".
Dr Mary Ramsay, head of immunisations at Public Health England, said: "Delivering a vaccination programme on this scale is incredibly complex and the JCVI's advice will help us continue protecting individuals from the risk of hospitalisation at pace.
"The age-based approach will ensure more people are protected more quickly. It is crucial that those at higher risk – including men and BAME (black, Asian and minority ethnic communities) communities – are encouraged to take the vaccine, and that local health systems are fully engaged and reaching out to under-served communities to ensure they can access the vaccine."
On Thursday evening, Metropolitan Police Federation chair Ken Marsh criticised the Government over the move, saying: "It's absolutely disgusting – they don't give a damn about us.
"Prime Minister Boris Johnson and Home Secretary Priti Patel should hang their heads in shame."