Police volunteers among record-breaking Queen's Award winners
Special constables, cadets and police musicians are among record numbers of volunteers across the UK to receive a royal award.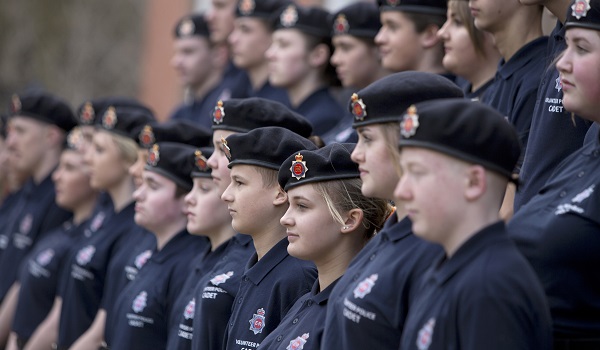 Greater Manchester Police (GMP) claimed two spaces among the 250 winners of the Queen's Award for Voluntary Service this year after its volunteer police cadets and Special Constabulary were recognised.
Staffordshire Police Cadets were also among the recipients of the award – the equivalent of an MBE for volunteer groups – as was the British Police Symphony Orchestra (BPSO).
This year's announcement, made on Saturday (June 2) to mark the anniversary of the Queen's coronation, saw a third more awards handed out than in 2017 and coincides with National Volunteers' Week.
The recipients of the Queen's Award are at the very top of a formidable volunteering movement in the UK involving millions of our citizens, and going from strength to strength
Tracey Crouch, Minister for Sport and Civil Society, said: "Everyone who has received this award should be incredibly proud.
"Their service, commitment and care has a profoundly positive impact on communities throughout the country and I am delighted they have been recognised with this prestigious award.
"The record number of recipients this year is testament to the strength of the voluntary sector and I am sure this trend will continue into the future."
The Queen's Award for Voluntary Service was created to mark the Golden Jubilee in 2002 and to recognise the outstanding contributions that volunteer groups make to their communities.
A total of 537 nominations were submitted to the 2018 awards, with winners selected by Her Majesty the Queen.
The number of recipients has significantly increased in recent years, with last year's 187 up 60 per cent on the number from 2016.
GMP's Specials and Cadets schemes see more than 800 people donate thousands of hours each week across the region.
The force's special constables carry out a range of duties from patrols to participating in community partnership projects, while its cadets provide support for local policing teams and raise money for charities.
Staffordshire Police's chief constable, Gareth Morgan, praised the "selfless" actions of his force's own volunteers, adding that "I continue to be grateful for the work they do".
The BPSO was founded in 1989 by an officer from West Midlands Police and has since become one of the most successful non-professional orchestras in the country.
All BPSO members are either serving or retired officers, police staff or other police family members, who commit a combined average of 7,865 hours per year.
The orchestra has raised over £180,000 for other charities, and plans to host a Charity Gala concert at the Royal Albert Hall next May to celebrate its 30th anniversary.
The Queen's Award for Voluntary Service Independent Committee Chair, former broadcast journalist Sir Martyn Lewis, said: "This year's record number of Queen's Award awardees are a powerful testimony to the remarkable achievements and innovative ideas which characterise volunteering in the UK.
"They prove that, more than ever, volunteers beavering away at grassroots level are the active lifeblood of our communities, identifying all kinds of problems and issues and tackling them with enthusiasm, talent and a high degree of success.
"The recipients of the Queen's Award are at the very top of a formidable volunteering movement in the UK involving millions of our citizens, and going from strength to strength."