Police vehicles rammed
Two Greater Manchester Police (GMP) vehicles were rammed by a stolen car in the early hours of Sunday (January 27).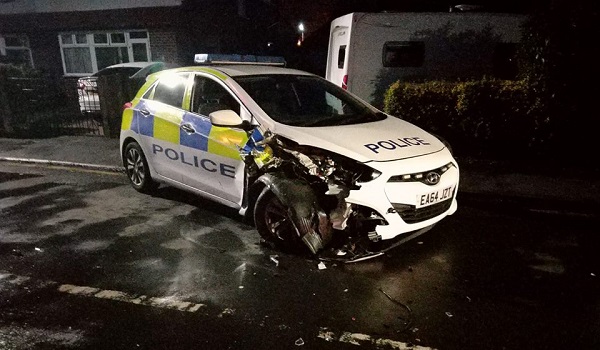 GMP confirmed to Police Professional that despite a local media report, no officers were injured in the attack. 
The stolen vehicle has been recovered, but no arrests have yet been made. 
GMP Trafford South said on Facebook that "airbags were deployed and [the incident] has left several officers shaken" and posted a photograph of a badly damaged patrol car. 
The incident occurred when officers responded to reports of an attempted burglary in Timperley.  
When the suspected burglars were disturbed, they rammed both a marked and an unmarked police vehicle before speeding away in the stolen car. 
GMP is investigating the incident. 
Last week, Police Professional https://www.policeprofessional.com/feature/driven-to-violence/reported on a worrying increase in the number of incidents of cars being used as weapons, particularly against police officers, resulting in serious injuries and sometimes even death (see PP639).