Police use of Taser up by a third
Police use of conductive electronic devices (CEDs), more commonly known as Taser, increased by more than a third last year although they were not discharged in 85 per cent of those incidents, according to the latest Use of Force figures from the Home Office.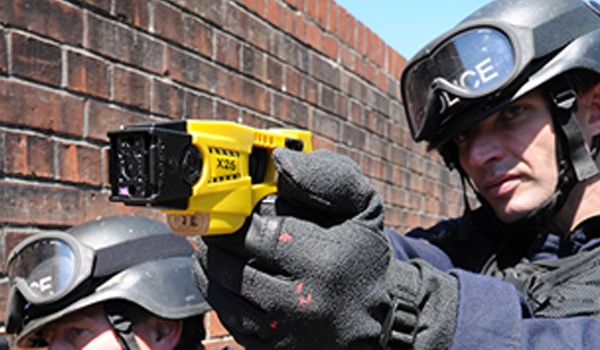 Taser was used in 23,500 incidents, up by 39 per cent from 16,900 the previous year, although the discharge rate remains the same.
The Home Office says the rise in CED use may reflect the increase in recent years of the number of Taser-trained officers and devices available in police forces – which is based on forces' strategic assessments of threat and risk – and officers dealing with more incidents with the potential for conflict.
The type of Taser use with the highest increase was red-dot – aimed at target – which jumped by 43 per cent, up 3,600.
Police Federation of England and Wales (PFEW) national vice-chair Ché Donald said: "With the Government, and an increased number of chief constables, backing a wider roll-out of Taser, it is unsurprising there were more incidents where this tactical option was selected.
"But the fact that the figure for instances where the Taser was drawn but not discharged remains so constant reaffirms how effective it can be in deescalating situations. The red dot alone continues to be enough to diffuse a vast majority of incidents without the need to pull the trigger."
A Home Office spokesperson said: "Police officers put themselves in harm's way to protect us and it is vital we give them the powers and equipment they need to fight crime and stay safe on the job.
"The rise in reports of assaults on police this year has been appalling, which is why we set up a fund to allow chief officers to provide up to 10,000 more officers with Taser – an important tactical option for police in potentially dangerous situations.
"We will also pass the Police Protection Bill and consult on doubling the maximum sentence for assaulting workers in emergency services, such as police officers, firefighters and paramedics."
The Home Office Use of Force statistics for the year April 2018 to March 2019 published yesterday (December 19) reveal there were 428,000 recorded incidents in which a police officer was required to use force.
Last year 313,000 incidents were logged – a rise of 36.7 per cent – which the PFEW and the Home Office attribute to forces standardising reporting processes. In April 2017, the Home Office introduced new forms aimed at providing an accurate record of the type and frequency of officers' use force on a day-to-day basis. Every time an officer uses any type of force they must record the details.
As such this is only the second year data has been available. And the report authors' acknowledge it still does not provide an accurate representation due to 'discrepancies and constraints' in recording. They also anticipate the figures will continue to rise over the coming years as a result.
Mr Donald said: "At first glance these findings may look startling given the substantial increase in recorded incidents, but it is highly likely that this is due to the standardisation of recording practices rather than a spike in the number of incidents where officers needed to use force.
"The decision to use force of any type is never taken lightly by any officer, and all use of force must be lawful, necessary and reasonable in all circumstances. Also when you consider the millions of incidents police officers deal with a year they clearly show we are still a service which polices by consent.
"Greater investment in technology within the service has also led to a wider roll-out of body-worn video cameras to improve the safety of colleagues and gives an additional layer of accountability for officers undertaking their day to day duties."
He added: "It is positive to see better recording as this gives us a clearer picture of the threat and challenges my colleagues face. It is important these stats are now analysed so the safety training officers are provided with appropriately mirrors the situations they are facing on the streets."
The most common reasons officers used force were to protect themselves (292,000 incidents) or their colleagues (241,000), while the most common factor in an officer's decision was the individual being drunk (166,000 incidents) or under the influence of drugs (127,000). The most common outcome of the use of force was the arrest of the subject.
Other statistics include:
Restraint tactics (eg, handcuffing) were the most common type of force used (401,000 times);
Unarmed skills were the second most common tactic type, reported 145,000 times. This includes distraction strikes with hands and feet, and pressure point and joint locks;
There were 4,500 incidents (one per cent) where firearms where reportedly used. This includes where the firearm was aimed and not fired; and
Mental health was more likely to be reported as an impact factor in incidents where ground restraint, limb/body restraints or spit/bite guards were used.
National Police Chiefs' Council lead for self-defence and restraint, Deputy Assistant Commissioner Matt Twist, said: "Police are charged with keeping people and communities safe and maintaining order. In fulfilling those duties, they may need to use force to protect the public and themselves from harm.
"Officers have thousands of interactions with the public every day and force is rarely used. As the public would expect, most forms of restraint used by officers involve the use of handcuffs in order to arrest an individual. It is no surprise that force is often used in cases where the person restrained is drunk or under the influence of drugs as experience shows these suspects can often be the most difficult and dangerous.
"Officers must be able to justify that force has been lawful, proportionate and necessary in the circumstances. This statistical data offers unprecedented transparency to the public, strengthening the relationship at the heart of our model of policing by consent.
"This dataset is still very new and is therefore significantly affected by changes in recording by police forces. In order to provide the best possible service and protection to the public, we will continue to improve recording and to use the data to shape decisions about training and equipment."