Police told to stop glamorising knife crime by displaying weapon hauls
Displaying images of seized weapons glamorises knife crime and encourages those living in areas where such incidents are prevalent to arm themselves, according to the head of the Scottish Violence Reduction Unit (SVRU).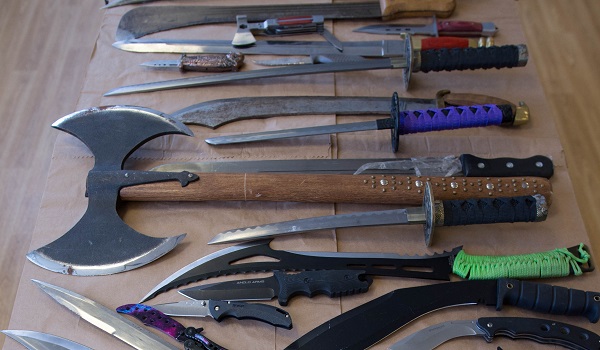 Speaking at the National Police Chiefs' Council's Local Policing Conference in Leicester, Niven Rennie told delegates that the current fashion for displaying collections of weapons seized is damaging the fight against rising levels of knife crime.  
"We used to lay them out on displays. We don't do that anymore. Some people say the public need to know what the police are facing.  No. In my opinion that is glamorising violence," he said.  
"When I have spoken to people who have been involved in violence, one of the reasons they carry a knife is through fear of crime. If you're going to put these knives up on display, if you're going to put them in the newspapers then you're creating a fear of crime and you're making matters worse. For God's sake stop it." 
In 2005 Glasgow was declared by the World Health Organisation to be the most violent city in the developed world with a total of 137 murders, a significant number of which involved young people and was the result of violence between gang members.  
"The police response was traditional," said Mr Rennie. "We'd do stop and search and have these short-lived campaigns, we'd count how many searches we'd done, how many knives we'd seized and then tell the press we were doing a great job." 
However, such activities had no effect on the levels of homicides taking place in the city, so a new approach was pioneered which led to the creation of the SVRU. By treating crime as a disease and public health issue, the unit was able to dramatically reduce the number of youths involved in knife crime. 
Last year there were 59 murders in Glasgow, most of which involved homicides in domestic settings with victims over the age of 30. The number of youths involved in crime and murders has fallen dramatically to the point that is no longer considered a major issue.  
The success of the Scottish model of violence prevention has attracted attention across the country and last year the Mayor of London announced plans to set up a similar system in the capital for which Mr Rennie has been called in as a consultant.