Police should use BWV cameras to record witness statements, urges report
Witness accounts given to police should be recorded by body-worn video (BWV) cameras rather than summarised in written statements, according to a new report by criminal law experts at University College London (UCL) and the University of Melbourne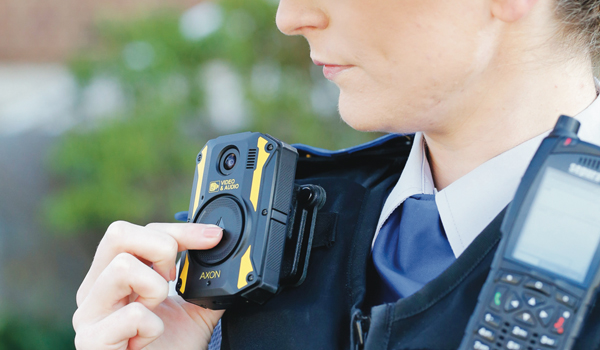 Currently, there is no requirement for witness statements to be recorded and in most cases the only record is the written statement – usually drafted by a police officer as directed by the witness.
The new report argues that this age-old practice fails to convey important information about how the police interview with the witness is conducted, which can unduly influence their statement.
BWV cameras are widely used by police forces in the UK and are increasingly used as evidence in court. In their report, the authors say that there are "good grounds" for requiring their use to record witness interviews, in addition to their use by officers to record arrests or other events during police operations.
However, the authors caution that more research is needed into the emotional impact of BWV camera footage and called for courts to be alert to how this might adversely influence people's judgment.
Co-author Professor David Ormerod QC (UCL Laws), who was Criminal Law Commissioner for England and Wales between 2010 and 2019, said: "There is no doubt as to the value of BWV as evidence in criminal trials. It can provide powerful footage of incidents such as domestic abuse or public disorder as they are occurring.
"We also believe there would be great benefit to using BWV to record witness interviews that often occur days after an incident has occurred. They would provide a better quality of evidence than the traditional written statement because they should show directly the way in which a witness was interviewed, if the account was shaped by a police officer's prompting, and whether the witness was confident or hesitant about different parts of their account."
But Professor Ormerod warned that besides the benefits, "there are also risks that need to be looked into".
"We need more research into the emotional responses such recordings may trigger, for instance, in cases where witnesses appear traumatised, or where upsetting events have been filmed – and how strongly these might affect people's judgment," he said.
"In the near future, every operational police officer is likely to be issued with a body-worn camera – so it would not be too costly or impractical to require their use in the recording of interviews."
The authors said that the recording of witness interviews could be made mandatory by bringing into force a provision in the Criminal Justice Act 2003.
Safeguards proposed by the report, published in Criminal Law Review, included:
Requiring the recording to be continuous, to reduce the risk of it being a partial account of the interview or of being choreographed or negotiated by police officers off-camera; and
That it should take place in a neutral setting rather than a witness's home, which may introduce unnecessary personal details that could affect people's view of the witness's account.
Co-author Dr Andrew Roberts, of the University of Melbourne, said: "If a recording were to take place in a witness's home, there could be subtle cues that might influence people's view of the witness either positively or negatively – for instance, seeing a hospital uniform in the background, or conversely seeing a chaotic flat with empty beer bottles lying around."
In the report – The Full Picture or Too Much Information? Evidential Use of Body-Worn Camera Recordings – the two authors considered the use of body-worn camera footage as evidence in criminal trials, and looked at the legal framework regulating the use of this footage.
They noted that such recordings were "qualitatively different" from CCTV or mobile phone footage – "BWV cameras are portable, events will often be filmed at close range, are exclusively under the control of the police, capture much more detail than CCTV cameras, and will record what can be heard as well as seen".
In particular, the authors said such footage would likely have stronger emotional impact than traditional forms of evidence. They called for research to look into the emotional responses that different kinds of footage triggered, to determine which evidence was likely to have an adverse effect on the judgments of the jury and would therefore need editing or should be excluded from the trial.
They said that typical general advice to juries to "set aside" emotion was inadequate in this context, as emotion and intuition are a necessary part of the fact-finding process, and that instead juries should be informed about how emotions can affect their reasoning and how they can consciously counteract it.
For instance, they noted, anger tends to lead people to place more weight on evidence that fits with this emotion and to overlook other evidence that may provoke a different emotional response. Conversely, "there is evidence that feelings of sadness lead to more careful and systematic processing of information", they said.
The report highlighted other potential positive impacts of recording witness interviews, such as:
Incentivising guilty pleas by defendants once aware of the compelling nature of the evidence to be presented;
Reducing the duration of trials which are contested; and
Relieving the stress for witnesses who feel that their account is based on an independently recorded account
In one case, the authors noted, the recording of the aftermath of a violent domestic abuse incident led to a successful prosecution despite the victim of the attack choosing not to give testimony.