Police seeing rise in mental health issues during lockdown
Suicides, attempted suicides and incidents of other mental health issues are on the increase a result of the coronavirus lockdown, MPs have been told.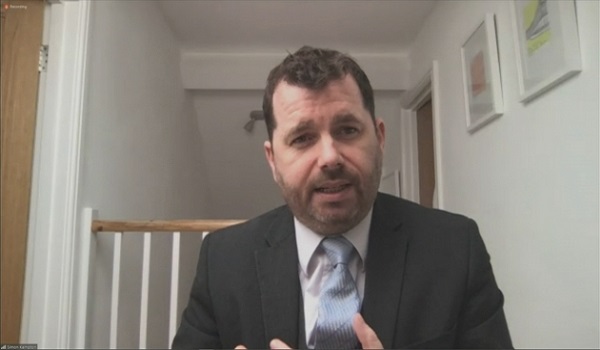 A special remote hearing of the Home Affairs Select Committee on Monday (April 6) on police preparedness for the pandemic heard evidence from a number of witnesses that restrictions on outdoor access and a general increase in overall anxiety were factors in the rise.
Simon Kempton, operational lead for Covid-19 at the Police Federation of England and Wales (PFEW), said officers were seeing more cases as pressure on the emergency services meant more vulnerable people were "falling between the gaps".
Mr Kempton said: "There are very early indications of an increase in suicide attempts and suicides – far too early to say if that's a real trend, but there are early indications of that. Quite often the police are the agency who are trying to deal with that situation.
"One of the difficulties we've got as a police service is we're losing staff to abstractions through self-isolation or sickness, so are the mental health services, so are social services, and it's going to be all too easy for some of these people in real crisis to fall through the gaps as we see those staffing levels come under more burden, and it's something we can't lose sight of.
"At the moment we are coping but we're starting to see in some areas, particularly in specialist areas, that burden starting to rise as we lose staff."
Paul Griffiths, president of the Police Superintendents' Association, told the committee that police officers were reporting an increase in mental health incidents.
"We're still waiting to see the data on the mental health incidents which we will still be dealing with, but anecdotally from our members we're starting to see a slight increase, and if we continue to keep these isolating strategies in place there is a risk that mental health issues will increase over the coming weeks and months," he said.
"We're well versed with what our role is in terms of supporting members of the community in terms of their mental health challenges, working with other agencies such as health and social care and local authorities. It's a well-trodden in terms of what we can do to maximise support for those individuals who are probably going to see increased and more intense pressure in terms of their wellbeing."
Committee chair Yvette Cooper asked a number of regional chief constables whether there was a "tension" between supporting physical wellbeing and mental health with access to parks, and social distancing.
Chief Constable John Robins of West Yorkshire Police said local authorities had closed some parks in urban areas because they had become a "magnet for people".
"The issue was people sitting, congregating and gathering and not fulfilling the spirit of one exercise a day," he added. "Groups of people sitting, drinking, perhaps listening to music isn't in the spirit of the legislation and it isn't going to stop the spread of the virus… I am satisfied that there are sufficient places for people to get exercise."
Chief Constable Garry Forsyth of Bedfordshire Police said officers had been patrolling urban parks and "engaged" with people flouting regulations but had not asked for any closures.
Derbyshire Constabulary Chief Constable Peter Goodman said "very minor" breaches had been dealt with by speaking to members of the public. He defended the force's decision to film walkers in remote areas with a drone, even though they had not committed a crime under new coronavirus rules.
Mr Goodman said the Peak District had been "inundated with visitors" who left local communities "under siege".
"Elderly residents felt they couldn't go to the shop to get essentials and when they did there was nothing in there because the tourists had taken everything," he told the committee. "There was a direct request from our communities for us to do something."
Mr Goodman said there has now been a decline in visitors to the national park, and that people were behaving "brilliantly" on the whole.
Mr Kempton said inconsistences in the enforcement of the lockdown rules was due to the Act being brought in so quickly that no officer training was available.
"We had a period of time, several days, where actually our only briefing was the very clear, very stark guidance that ministers and other government officials were giving to the public," he said. "We didn't at that time have anything in writing, and that might have led to some of the inconsistencies in approach."
Mr Griffiths added that initially officers were guided by "policy intent" rather than the new legislation which "has been introduced at a pace and at a scale that we have never experienced before".
"Very early on there was probably some confusion," he said. "There was a real need for a clear and consistent message both from the Government, from the police and other agencies about what this meant. I think a lot of officers relied on the policy intent before the law was enacted.
"Were there mistakes? Yes, there probably were. Were there times where it could have been misinterpreted? Yes, but actually the intent was clear to everybody."
British Transport Police was found to have incorrectly applied the law after fining Marie Dinou £660 for apparently attempting to take an unnecessary train journey in Newcastle. Cheshire Constabulary said that action to summons five people for being "out for a drive due to boredom", "returning from parties" as well as "multiple people from the same household, going to the shops for 'non-essential' items", was also incorrect.
The hearing heard that across the country, around 13 per cent of all police officers and staff – around 26,000 workers – were absent due to sickness, self-isolation or caring responsibilities. However, the figure varies from force to force. In a recent open letter, Chief Constable John Campbell of Thames Valley Police said 20 per cent of his workforce was absent.
Mr Griffiths said no forces were yet reporting a risk to service provision, adding: "Even with that capacity issue, none of the police forces are flagging up anything they can't cope with at this stage."