Police Scotland frustrated investigation into counter corruption unit
"Ineptitude" and secrecy hindered a full-scale misconduct investigation into Police Scotland's counter corruption unit (CCU), according to the chief constable tasked with looking into the unit.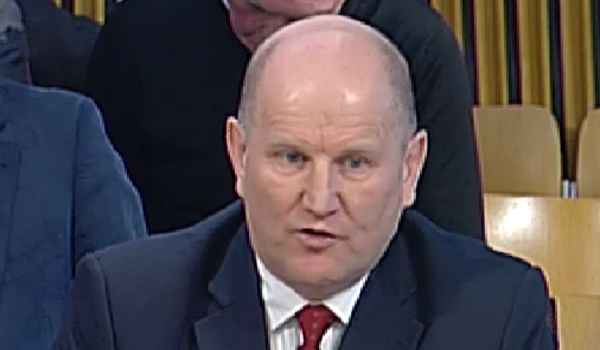 Durham Constabulary was called in to examine the CCU after it was found to have unlawfully seized communications data during an unsolved murder inquiry.
However, its progress was repeatedly blocked by defensiveness and a "culture of secrecy", Durham's Chief Constable Mike Barton told the Scottish Justice Sub-Committee on Policing.
Investigators came up against defensive and risk-averse lawyers – and the investigation was downgraded to an inquiry part way through, blocking access to vital evidence.
Addressing the committee on Thursday (February 22), Mr Barton acknowledged there was not any conspiracy in the force to impede his progress, instead blaming the problems on "ineptitude".
He added: "I think it's preposterous that in an inquiry I was asked to go and speak to officers, and they couldn't be held to account for what they told me.
"They could have just told me a load of old bunkum and I'd have had to write it down and it on to somebody who's investigating, and then they'd look at me and say, 'you're not so good Mick, you've just put a load of bunkum in front of me' because it couldn't be a probing interview under caution.
"I think it's grown over time. But I do think it needs everybody put into a sack and shaken up and told, 'for heaven's sake fix it, and stop it'."
Durham Constabulary's inquiry centred on the aftermath of a 2005 investigation into the murder of Emma Caldwell.
Officers obtained communications data without seeking judicial approval to identify the source of a media leak.
The inquiry ended with a recommendation that a misconduct investigation take place, which was led by the Police Service of Northern Ireland (PSNI) and led to all officers involved being cleared.
Mr Barton claims he was initially asked to independently investigate the CCU but was "prevented from doing so" when it was changed to an inquiry.
He added that he was made to feel like an interim investigator, and could have wrapped up proceedings more quickly if he had been allowed to progress as planned.
Following the committee session, MSPs accused Police Scotland of having a "dysfunctional culture" and said it would have "serious questions to answer".
Deputy Chief Constable Rose Fitzpatrick said: "A full misconduct investigation was carried out by PSNI at our request, which is the element of the process that Chief Constable Barton says he was prevented from undertaking.
"The PSNI investigation found that there was no misconduct on the part of any of the seven officers who were investigated.
"It is our position, supported by external independent legal opinion from a QC, that our regulations would not have permitted Chief Constable Barton from carrying out both the complaint enquiry and the misconduct investigation.
"We have previously said that there has been significant organisational learning from these enquiries and a report on this has been provided to the Scottish Parliament's justice sub-committee."