Police Scotland chief constable steps down over 'impossible' return to duties
The chief constable of Police Scotland has announced his resignation with immediate effect.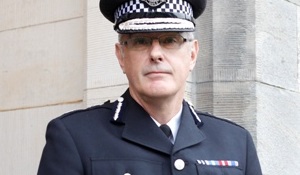 The chief constable of Police Scotland has announced his resignation with immediate effect. Phil Gormley has decided it would be impossible to resume his duties in any meaningful way if he returned to work ahead of his contract's expiration later this year. Mr Gormley has been on special leave since last September while being investigated over allegations of bullying, which he denies. Five complaints are currently being examined by the Police Investigations and Review Commissioner (PIRC) and several others are being assessed internally. His contract has been ended ten months early and the Scottish Police Authority (SPA) has decided that he will not be required to work his contractual notice period. Mr Gormley said: "The last eight months have been difficult for me and my family, in particular I would like to thank my wife for her love and loyalty. The events since November 2017 have led me to the conclusion that it is impossible for me to resume my duties in a meaningful way prior to the end of my contract. "I now need to prioritise the health and wellbeing of my family on whom these events have taken a significant toll. "The support of colleagues from across the UK with whom I have served during the last 32 years has been a source of great strength. As chief constable of Police Scotland I have had the privilege to meet and work with some exceptional people, I wish them well for the future and it is in their interests that I feel it is right to step aside." Mr Gormley's leave has been reviewed every four weeks since he stepped aside in September 2017. His return to work was approved by the SPA last November but the decision was blocked by Justice Secretary Michael Matheson over "clear deficiencies" in the process. The chief constable is one of several senior officers being investigated by the PIRC, with others including Assistant Chief Constable Bernard Higgins and armed policing lead Superintendent Kirk Kennell. Earlier this week, PIRC commissioner Kate Frame raised concerns about the "considerable rise" of top officer referrals by the SPA. Ms Frame claimed the growth in investigations referred to the PIRC has made it difficult to complete inquiries within the ideal period of time. Mr Gormley will now receive a payment in respect of his salary for his three-month notice period. He will receive no other settlement or severance payment. Susan Deacon, Chair of the SPA, said: "Chief Constable Gormley has made a significant contribution to policing in Scotland. The delivery of the ten-year strategy "Policing 2026: Serving a Changing Scotland" provides a strong basis for Police Scotland to move forward. "I would like to thank him for this contribution and wish him well for the future. This has been a challenging period for all concerned, and in the interest of policing in Scotland we now need to move on". Deputy Chief Constable Iain Livingstone said: "On behalf of everyone at Police Scotland, I would like to thank Phil Gormley for his contribution to policing and wish him and his family well for the future. "The last few months have been a difficult time for Police Scotland and many individuals. "My focus, and that of all officers and staff, will remain on day-to-day policing and serving the people of Scotland as we go forward."