Police Scotland asks for peer review of former undercover policing unit
Police Scotland Chief Constable Iain Livingstone has asked for an external force to examine "unsatisfactory and unprofessional" conduct by the former Scottish Crime and Drug Enforcement Agency (SCDEA).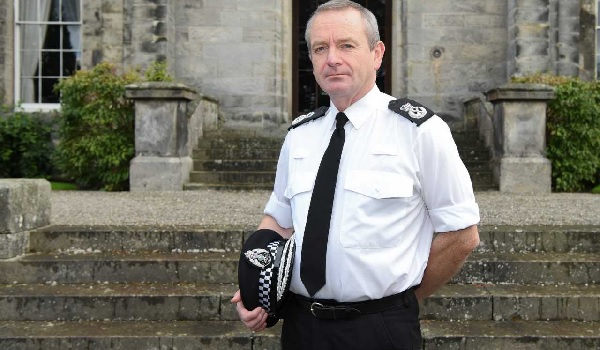 He said that while he was "entirely satisfied" that a review of the SCDEA by an in-house team had been "robust and appropriate", he understands that public confidence in covert policing was vital.
Mr Livingstone added that the force would take further action if the review finds any further lines of inquiry or recommendations.
The misconduct allegations relate to an incident in 2011 when a former employee, known as Mrs K, claims she was frozen out of her job for raising concerns about actions within the unit.
Mrs K raised a civil court action against her bosses following the discovery of concerning documents in a covert mailbox, which had been operated by a colleague.
She told a senior officer about her initial concerns, but when she returned to the premises she had been using as an office, Mrs K found it had been ransacked.
The former Grampian Police officer, who had been seconded to SCDEA, also said she and a colleague were told to buy a garden incinerator and petrol to destroy documents.
An internal investigation was launched in which Mrs K was subject to two and a half days questioning, which she said left her feeling "degraded".
She was then told she was being suspended from her role as an undercover operative and moved to work in witness protection.
At the Court of Session in Edinburgh, Lord Brailsford ruled in the woman's favour after she raised the action against the former chief constable, Sir Stephen House.
The Scottish Police Federation said it understands that lawyers for Police Scotland are appealing the decision.
The SCDEA ceased to exist after it was incorporated into Police Scotland, which replaced the former eight-force model in April 2013.
Mr Livingstone will update the Scottish Police Authority (SPA) at a meeting in Edinburgh on Wednesday (May 22).
In a report, published online by the SPA on Monday (May 20), Mr Livingstone said: "It is clear the events which took place in the legacy SCDEA in 2011, as described in the civil action, were wholly unsatisfactory and unprofessional.
"I have now considered Police Scotland Review Team's conclusions and recommendations. While I am entirely satisfied that the review was a thorough, robust and appropriate response, I recognise the legitimate interest that exists about what took place in 2011, and the importance of public confidence in the vital area of covert policing.
"To that end, I have requested that an external force, which has significant knowledge and experience in the area of covert policing, carry out a peer review to provide independent assurance.
"The purpose of this independent peer review is to ensure all legitimate inquiries have been carried out and to identify whether there are any further lines of investigation which should be pursued.
"On completion and receipt of the peer review, I will determine what steps, if any, are required to ensure the integrity of the Police Scotland response and provide further public reassurance over this episode."