Police Scotland admits failings that 'materially contributed' to M9 crash death
Police Scotland has admitted its failings "materially contributed" to the death of a young mother who lay undiscovered in a crashed car with her partner for three days after the incident was reported to police.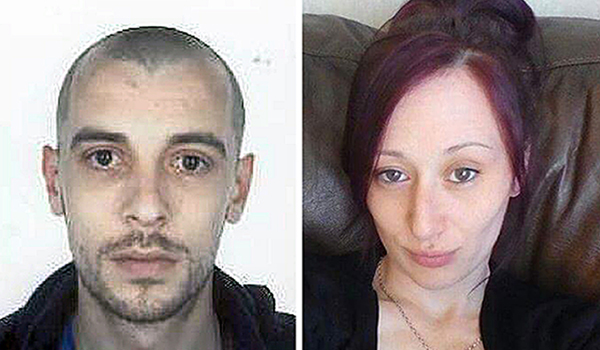 On Tuesday (September 7), the force pleaded guilty to health and safety failings, following the deaths of John Yuill, 28, and Lamara Bell, 25, who died after their car crashed off the M9 near Stirling in July 2015.
Despite a call being made to police, it took them three days to respond.
When officers finally arrived at the scene, Mr Yuill was found to be dead and Ms Bell died four days later in hospital.
At the High Court in Edinburgh, the office of the Chief Constable of Police Scotland admitted that it failed to ensure that people including Mr Yuill and Ms Bell were not exposed to risks to their health and safety by failing to provide an "adequate and reliable call-handling system" between April 1, 2013, and March 1, 2016.
It also failed to ensure the system was "not vulnerable to unacceptable risks arising from human error" and to ensure that all relevant information reported by members of the public was recorded on a Police Scotland IT system so that it could be considered and a police response provided where appropriate.
The force admitted that as a result, members of the public were exposed to risks to their health and safety and, in particular on July 5, 2015, a police officer at the force call-handling centre at Bilston Glen Service Centre failed to record a phone call from a member of the public reporting that a vehicle was at the bottom of an embankment at the side of the eastbound junction nine slip road from the M80 on to the M9.
The indictment says the phone call was not recorded on any Police Scotland IT system and the failure went unnoticed with "no proper consideration of the report and no opportunity for an appropriate response from Police Scotland".
The force admitted Ms Bell and Mr Yuill remained "unaided and exposed to the elements" in the car between July 5 and 8, 2015 and that the failings "materially contributed" to her death on July 12 that year at the Queen Elizabeth University Hospital in Glasgow.
The force pleaded guilty to breaching the Health and Safety at Work Act 1974 and was fined £100,000.
Sir Stephen House, who was chief constable at the time of the incident, stepped down from the role at the end of 2015 following controversy over the deaths.
In a statement following Tuesday's proceedings at the High Court, Chief Constable Iain Livingstone "apologised unreservedly" to the families of Ms Bell and Mr Yuill.
He said: "Lamara Bell and John Yuill's deaths were a tragedy and my thoughts today are with their children, families and friends.
"The preservation of life and helping people who are in crisis go to the heart of our duty to keep people safe.
"Police Scotland failed Lamara and John in that duty, and for that I am sorry.
"On behalf of policing in Scotland, I apologise unreservedly to their families.
"And if the families agree to do so, I would welcome the opportunity to meet with them, when they are ready, to personally convey my apology."
Mr Livingstone added: "When I took up the Office of Chief Constable I gave a commitment that the Police Service of Scotland would cooperate fully with the Crown Office investigation into this tragedy.
"Police Scotland has fully participated with the inspections, investigations and inquiries established since July 2015 to identify what went wrong and safeguard against those failings being repeated in the future.
"None of those investigations or inquiries change what happened or provide any consolation to the families involved, but I do offer an assurance that lessons have been learned and improvements made.
"The call handling system in place in 2015 exposed the public to an unacceptable risk and led to tragedy.
"People are entitled to expect help when their police service tells them they will respond.
"Our failure in July 2015 undoubtedly weakened the relationship of trust that exists in Scotland between policing and the communities we serve.
"Since that time, we have made changes to our approach which have resulted in significant improvements to reduce and mitigate risks associated with call handling and across policing.
"As chief constable, I undertake that Police Scotland will continue to fully cooperate with any other inquiries which may take place.
"I am personally committed to leading the organisation through further change and improvement to lessen the possibility of such a dreadful event ever happening again.
"I reiterate my personal condolences to the families of Lamara Bell and John Yuill. I am sorry for Police Scotland's failure to keep them safe and the tragic consequences of that failure."
Martyn Evans, chair of the Scottish Police Authority, said his "sincere sympathy and condolences" remain with the families of Ms Bell and Mr Yuill following their tragic deaths.
"The severity and significance of the charges and fine placed on Police Scotland underline the serious failure to respond appropriately to this incident in 2015," he said. "The chief constable's detailed acknowledgement of these failings, apology and personal commitment to continue to drive improvement and further reduce the opportunity for such circumstances to ever happen again are frank and heartfelt.
"There is no doubt that the way Police Scotland handles and responds to calls from the public has improved since July 2015. Considerable priority and effort has been made to strengthen Police Scotland's call handling arrangements. This has been informed by independent assessment and recommendations and through continuing external inspection and enhanced and additional oversight.
"Developments in practice, culture and training now mean all calls from the public are individually assessed with call handlers seeking an understanding of the urgency, need and vulnerability, before identifying the most appropriate response or resolution.
"None of the improvements made since 2015 or underway will bring Ms Bell or Mr Yuill back, but I do hope they go some way to alleviating the families anguish and offering assurance that very significant effort has been made to mitigate a similar incident from ever happening again."
Mr Evans added: "The Authority has trust and confidence that the chief constable and his leadership team will maintain the momentum and seek continuous improvement in this critically important area of service delivery.
"The Authority's governance and scrutiny will continue to monitor and review performance closely."