Police response to modern slavery needs improvement
The police response to modern slavery could undermine victims' confidence and hinder successful prosecutions, a new report has found.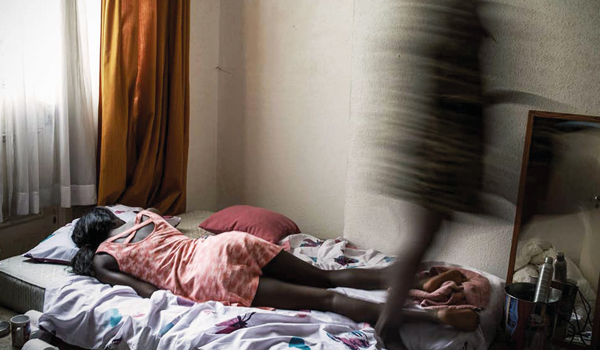 A police super-complaint submitted by the charity Hestia raised concerns that modern slavery victims were not receiving the support and understanding they need from the police.
Following a joint investigation into these concerns, Her Majesty's Inspectorate of Constabulary and Fire and Rescue Services (HMICFRS), the College of Policing and the Independent Office for Police Conduct (IOPC) found that while the police response to modern slavery has improved, victims were not always made to feel safe and do not always get the support they deserve.
The report recommends that the Home Office, chief constables, the Independent Anti-Slavery Commissioner, victims' commissioners and the Crown Prosecution Service (CPS) work together to better understand victims' experiences and what improvements they need to make.
It also recommends that chief constables should:
Ensure staff have access to training and specialist knowledge, and understand victim support arrangements;
Allocate modern slavery investigations to teams and individuals with the right skills and experience; and
Work together with police and crime commissioners to understand what support victims of modern slavery need.
Her Majesty's Inspector of Constabulary Wendy Williams said: "Modern slavery is a complex crime, which often goes unseen. Perpetrators will prey on the most vulnerable in society, and manipulate them with psychological abuse, fear and violence.
"It is encouraging that since our last inspection in 2017, the police's understanding of and response to modern slavery has improved, with an increase in recording of offences and police forces getting better at identifying crimes of this nature. But identifying the crime is only the first step in ensuring protection and justice for victims.
"Policing cannot achieve this alone. There needs to be a seamless system of enforcement against offenders, and support for these extremely vulnerable victims.
"We thank Hestia for submitting this super-complaint, which has shone a light on where the police response to these appalling crimes has improved, and where more needs to be done. The experiences and needs of victims must be at the centre of this."
In a joint response to the report, the Independent Anti-Slavery Commissioner, Dame Sara Thornton, and the Victim' Commissioner, Dame Vera Baird QC, said: "Victims of slavery and exploitation require specialist support: from identification through to recovery and reintegration. We must provide victims with robust and professional support that gives them a pathway from being a victim to being a survivor. Providing the right support helps to bring traffickers to justice and ensures that perpetrators cannot continue to exploit and abuse vulnerable people for profit.
"Hestia's super-complaint raised concerns that the police response to modern slavery undermines the confidence of victims and hinders successful prosecutions. This response from HMICFRS, the College of Policing and the Independent Office for Police Conduct finds that whilst improvements have been made since the 2017 HMICFRS modern slavery inspection, a lack of specialist knowledge, training and resource for investigations remains a barrier to a consistent response where access to justice for victims and survivors is assured.
"Prosecutions for offences under the Modern Slavery Act remain low. The Independent Anti-Slavery Commissioner's office has recently undertaken work to explore the barriers to successful prosecution. Lack of effective support for victims as prosecution witnesses was a key concern. We welcome the recommendation made by the report for chief constables and police and crime commissioners to ensure that there are options for support available pre-NRM (National Referral Mechanism), post-NRM and for those who do not consent to the NRM process."
The commissioners said the Act contains a defence for victims who have offended as a result of their exploitation, but the report found that this defence is not always considered.
Dame Sara said a review by the Independent Anti-Slavery Commissioner's office on the use of the defence published last year identified similar findings: that police were not identifying victims early enough or proactively considering whether this defence may apply.
"Consequently, the protection for victims is not yet adequate and this needs to change. Unless victims receive the care they require at first point of contact with the criminal justice system, we've got no hope of victims supporting a case through court," said Dame Sara and Dame Vera.
"We are disappointed that the report failed to hear directly from victims about their experiences. The report calls for research to be undertaken to better understand victim experiences, and this is something we would support.
But it was a missed opportunity not to engage as part of this super-complaint. We must incorporate the expertise of survivors and ensure that practices and policies reflect the needs and views of those they seek to serve."
The added: "Overall, more needs to be done. Last year the Independent Anti-Slavery Commissioner formally requested HMICFRS to undertake a new inspection of forces' response to modern slavery. HMICFRS did not feel able to accommodate this within their inspection plans. This must be reconsidered if we are to ensure this report's recommendations are being taken forward. Victims and survivors of modern slavery deserve access to justice and we must ensure that the police response continues to improve."
The super-complaint was lodged in March 2019 after Hestia found that while there was a 250 per cent increase in the number of modern slavery operations reported by UK police forces in 2018, numbers of prosecutions for perpetrators of modern slavery offences remained "considerably low", with only seven per cent of recorded cases referred to the CPS.
IOPC Director General Michael Lockwood said it was vital that victims of modern slavery and human trafficking feel safe and supported by the police and the criminal justice system as a whole.
He said: "Those victims have already suffered at the hands of their traffickers and captors and should not be victimised again when they are seeking justice and their freedom.
"While it is pleasing to see the response from the police service has improved there is always more that can be done and our report makes recommendations which will go further to protect and support some of society's most vulnerable victims. The super-complaints process can provide confidence and assurance to victims that action will be taken to improve the way they are supported."
The police super-complaints system allows designated organisations to raise issues on behalf of the public about harmful patterns or trends in policing.
Interim chief executive officer of the College of Policing Bernie O'Reilly said: "This report is the result of a successful and collaborative effort between the three super-complaint organisations, and we are grateful to Hestia for raising concerns about the complex and largely hidden crime of modern slavery and the policing response to it. It is vital that policing is as effective as possible in combatting this dreadful crime of exploitation that causes so much misery to the most vulnerable in our society.
"We are pleased to see that since the 2017 HMICFRS inspection report on modern slavery and human trafficking, the police response has improved. We also recognise that further work needs to be carried out to achieve greater consistency when it comes to identifying and supporting victims of modern slavery across forces.
"Greater efforts should also be taken to ensure that victims feel supported throughout the investigative process, as their engagement and confidence in the police service is fundamental to bringing perpetrators of modern slavery to justice.
"We will now work with our operational colleagues and those across government to take the recommendation forward, so that our advice and guidance best equips policing to address this form of exploitation and abuse."
National Police Chiefs' Council lead for Modern Slavery, Chief Constable Shaun Sawyer, said: "The police service is committed to combating modern slavery which the inspectors recognised and rightly pointed out the considerable improvements to our response in recent years, however we know there is more to do.
"Modern slavery is still a largely hidden crime and can be hard to spot which is why we have worked with the College of Policing to provide all officers with up to date training and guidance on understanding the signs and how best to support victims.
"When someone reports a crime police will always, first and foremost, treat them as a victim. The police priority is to protect victims and investing hate crime, and we are extremely careful about doing anything to deter people from reporting to us.
"This crime cannot be tackled by arrests alone and we are working closer than ever before with the Crown Prosecution Service, Home Office, National Crime Agency and charities to make sure our response is a joined up as possible. We will take time to carefully consider the recommendations made by the inspectors."
In its annual National Strategic Assessment published this week, the National Crime Agency (NCA) said it is likely that at least 6,000 to 8,000 offenders are involved in the exploitation of people in the UK.
Despite under-reporting, 10,613 potential victims were identified through the NRM in 2020, similar to the previous year (10,616).
The NCA report reveals there were 90 investigations into modern slavery and human trafficking with 100 suspects arrested and 475 victims identified, and a seven per cent jump in the number of rescued trafficked victims from 657 in 2019/20 to 701 in 2020/21.