Police provide figures on use of Taser on mental health patients
A Freedom of Information request has revealed that among 28 forces, officers have used a Taser 96 times in the last year on mental health patients.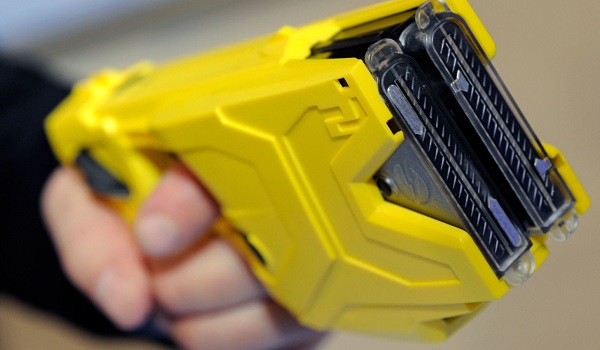 The numbers consist of times when police were called to hospitals and other mental healthcare facilities and a Taser was deployed in some way. The devices were fired in less than a third of all the 96 recorded cases (only 21 times).  
The figures published by The Guardian on Monday (October 1) drew criticism from campaign group Liberty, which said it was "difficult to see" why they should be used on the mentally ill, given the potential health consequences associated with the mechanisms.  
However, the National Police Chiefs' Council explained that "In the majority of these cases, the Taser being drawn defuses the situation without it being fired." 
"Officers who are equipped with Taser must pass a nationally recognised training course, which covers dealing with people who are suffering from mental ill health." 
Mark White, Home Affairs Correspondent for Sky News UK, tweeted that "[The] truth is more complex. Through no fault of their own, those suffering a mental health crisis can often be very violent. Police called to help have a choice.. stun a violent, often armed individual, or open fire with live ammunition." 
However, the newspaper also pointed out that the figures are made up by only a portion of forces that were able to respond to the FOI. Fifteen forces – including the Metropolitan Police Service (MPS) – were unable to provide numbers on the deployment of Tasers on mental health patients.  
Last year, the Home Office made the requirement for police to record all uses of force – including Taser – to increase safeguards and transparency. This includes drawing and aiming, as well as firing, a Taser.  
The BBC also reported in February this year that the MPS and Police Service of Northern Ireland were unable to provide the figures for Taser use on mental health patients in 2017 requested by BBC Radio 5 live.  
The Guardian's figures showed that Greater Manchester Police and Avon and Somerset were the two forces to use a Taser on patients the most frequently, a total of 18 times each. 
Superintendent Mark Dexter of GMP's Specialist Operations Branch said in response that "The use of Taser is set down by national guidelines which GMP adheres to and we review each time a Taser is deployed to ensure policy has been followed and identify any concerns. 
He added that: "The Taser can be a valuable and effective option for police officers dealing with potentially volatile situations. 
"The decision to deploy a Taser is not taken lightly and is only used where it is absolutely necessary to protect the public, police or the individual themselves. 
A spokesperson for the Home Office said: "We are committed to giving the police the necessary tools to do their job. Taser provides officers with an important tactical option when facing potentially physically violent situations. 
"The Government is clear that all police use of force must be lawful, necessary and reasonable in the circumstances. Use of force in mental health settings, including the use of TASER, a form of conducted energy device (CED), should only be used as a last resort, where possible de-escalation techniques should always be the first response. 
"The deployment of TASERs is an operational matter for Chief Officers and it is for them to determine the number of devices and specially trained officers based on their force assessment of threat and risk."