Police pay body 'a complete joke'
Policing and Fire Minister Nick Hurd has promised to implement any sensible recommendations from the service's pay review body this year as his Labour counterpart slammed the organisation's independence.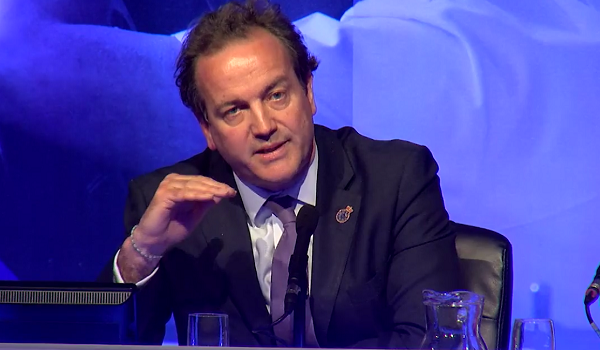 Last year the Government ignored the Police Remuneration and Review Body's (PRRB) proposal for a two per cent officer pay rise by offering half as a non-consolidated bonus.
Questioned on whether this year's recommendations would be implemented with no "spin or some and mirrors" at the Police Federation of England and Wales (PFEW) annual conference, Mr Hurd said he would be prepared to back any suggestions that are "not bonkers".
He also asked the PFEW to help the Government build its case for this year's Comprehensive Spending Review (CSR), signalling that the Home Office understands the pressure policing is under.
However, Shadow Policing Minister Louise Haigh criticised repeat government interventions in previous budgets that limited PRRB recommendations.
Ms Haigh said: "The PRRB process is a complete joke. You've replaced the negotiating board that enabled the federation and staff representatives to negotiate directly with the Government in a reasonable process with a board that you claimed would be independent, and then your Chief Secretary to the Treasury has written to them four years in a row to limit them at one per cent.
"How is that independent? It has restricted its ability to make recommendations based on issues around recruitment and retention and the ability to motivate able and qualified officers."
Police pay rises were capped at one per cent between 2013 and 2017 after being frozen for three years.
The limit was officially removed last year, but despite the PRRB's recommendation for a two per cent increase – and the PFEW's request for 2.8 per cent – the Government implemented only one per cent as a genuine rise.
The remaining one per cent was offered as a non-pensionable bonus payment that ends this year.
Addressing the PFEW conference on Tuesday (May 22), Mr Hurd claimed the Government was forced to compromise on this pay rise after representations from concerned budget holders about affordability.
Sussex Police Federation chair Matt Webb challenged him to commit to fully support this year's PRRB recommendation, which he agreed to as long as the proposal is reasonable.
"I can put that on record with the only caveat that the recommendations are not bonkers," said Mr Hurd.
The Policing Minister added that £1 billion more is being invested in policing this year than two years ago, which is prompting forces to begin recruiting more officers.
PFEW chair Calum Macleod warned that a more immediate solution for police budgets is still required as "we are driving the public away by not being visible".
Asked whether budgets will be protected this year, Mr Hurd responded:  "I hope I've signalled I see a case for going beyond protection, I want to see increased investment in policing.
"We've moved on from cuts to protection, we are now in a phase of increasing our investment within the restraints that we've got as a country because we're still spending £50 billion a year on interest on the debts that we've accumulated.
"My personal view is that I think we are at a pivotal point in terms of the future of British policing. I think we've got some very real issues to sort out in the short term around capacity and making sure the quarter of current forces that are clearly really struggling to manage existing demand can do so effectively.
"But I think the whole system is profoundly challenged in terms of the ability to meet future demand in a context where the world you are policing is changing so fast."