Police officer jailed for six months for shoplifting
A judge jailed a police officer for two brazen acts of shoplifting from Asda after dismissing claims she was the victim of "homophobia, bigotry, prejudice and racism" by store staff.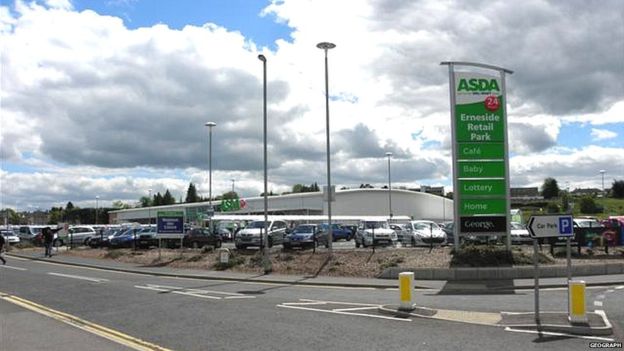 Judge Neil Rafferty QC told Sergeant Linda Totten that her "premeditated" acts had been so serious on the scale of offending that "only a custodial sentence will suffice".
The Police Service of Northern Ireland (PSNI) officer was handed a six-month prison term on Monday (February 19) after being found guilty of shoplifting in November.
Judge Rafferty told Sgt Totten that, while the public expected those entrusted to uphold the law, she had gone into the store in Enniskillen in December 2013 deliberately "to steal".
He added: "This is a mature woman who deliberately and with premeditation went to that store to steal and did so on two occasions.
"Nevertheless it is my view that the offending in this particular case was so serious, so premeditated and so culpable that only an immediate custodial sentence will suffice."
Sgt Totten, 50, whose address was given as Enniskillen PSNI station, arrived at Armagh Crown Court on Monday on a mobility scooter.
She was helped into court by her partner and two court staff.
During her trial in Dungannon, the court heard her described as a "bluffer", who carried out "brazen and bold thefts".
The court was told she had been in Asda in Enniskillen twice. CCTV footage from both visits showed Sgt Totten with a trolley-load of goods on both occasions.
In his summing up Judge Rafferty also cleared Asda staff of any wrongdoing in apprehending Totten.
The PSNI officer, with 27 years' service, had accused staff of "homophobia, bigotry, prejudice and racism" and said they were "motived by malice".
But, the judge said, he wanted to make it "absolutely clear that these allegations had no basis in my view whatsoever".
Defence lawyer Laim McStay said that while re-instated by the PSNI last August, Sgt Totten is "facing imminent disclipinary proceedings" and her livelihood and reputation are now completely at an end.
Prosecuting barrister James Johnston said that the officer was caught using the same modus operandi of loading her trolley with shopping on top of which she placed a cardboard box of cheap items which she then went to pay for.
Although caught on CCTV on both occasions, when challenged, Totten told Asda staff she had paid for the bulk of the shopping and only needed to pay for those items in the box.
Speaking before sentencing, the defence lawyer said his client's health had declined recently, that she has been referred for rheumatology and neurology problems, and had been bedridden since last weekend.
He added that she was so determined to attend court that her friend located a mobility scooter for her.
Sgt Totten is expected to lodge an appeal at the High Court.