Police need to stop pandering to identity politics – Home Secretary
Police need to "stick to catching the bad guys" and stop "pandering to identity politics", the Home Secretary has said.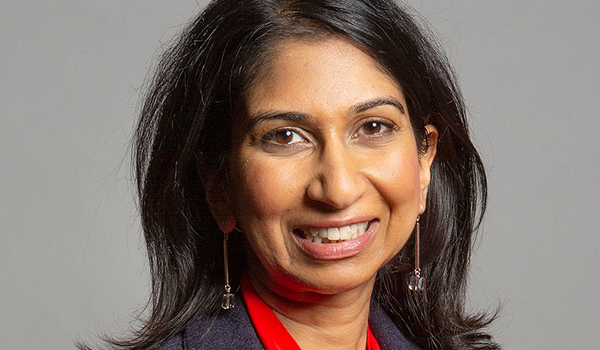 Suella Braverman also issued a warning to protesters that she would "keep putting you behind bars", if they cause serious disruption.
Speaking on the main stage at Conservative Party conference, the Home Secretary accused the left of wanting to replace "profound, elemental values" with "the poison of identity politics", adding that this "distracts our public servants from doing their real job".
She added: "That's why it is not only wrong for the police to take the knee.
"It is wrong for them to join in with political demonstrations; it is wrong for biologically male police officers to strip search female suspects."
She went on: "It is not just that pandering to identity politics is a huge waste of time. They need to stick to catching the bad guys."
"More Pcs, less PC," the Home Secretary added.
However, Ms Braverman added she was "immensely proud of our police", telling the conference hall in Birmingham: "Many on the left want to defund the police. Well I say to the militants, I say to the anarchists and the extremists: I will always back our policemen and women."
In a drive to promote "common sense policing", the Home Secretary said: "That means that the mob needs to be stopped.
"The police must have all the powers that they need to stop protesters who use guerrilla tactics and bring chaos and misery to the law-abiding majority."
Ms Braverman said it was "not a human right to vandalise property", adding: "So whether you are Just Stop Oil, Insulate Britain or Extinction Rebellion – you cross a line when you break the law. That's why we will keep putting you behind bars."
She also told the party conference that overall crime had fallen under the Conservatives, but that she would "never be complacent".
"Now, the Prime Minister and I want to see homicide, serious violence, and neighbourhood crime fall by 20 per cent," she added.
The Home Secretary has also reinforced her "zero-tolerance approach" to criminals and immigration offenders entering the UK.
Last month more than 500 foreign criminals and immigration offenders were removed from the UK by the Home Office.
The foreign national offenders removed had received combined prison sentences of more than 337 years and were convicted of crimes including sexual and violent offences, supplying Class A drugs and facilitating illegal entry to the UK.
In total, 533 people were returned, including 105 to Albania on three dedicated charter flights and scheduled flights this month.
The Home Office also returned 26 Romanian nationals and nine individuals to Zimbabwe on separate charter flights.
More than 300 people who had no right to remain in the UK, including three Albanian nationals who entered the UK illegally – one via small boat and two through other clandestine means – have also been removed.
Ms Braverman said: "We are taking a zero-tolerance approach to anyone who comes to the UK and breaks our laws.
"Returning such a high number of dangerous criminals sends a clear message that they are not welcome here.
"We are also clamping down on those who come here illegally, and I am exploring every avenue to accelerate their removal."
This could include a law allowing the deportation of illegal migrants and effectively banning them from claiming asylum as part of her "crackdown" on Channel crossings.
To date this year, the UK has removed 8,175 people via enforced, voluntary and other return types, including 2,250 foreign national offenders.
The Home Office says the Nationality and Borders Act will further deter illegal entry into the UK, "breaking the business model of people-smuggling networks and speeding up the removal of those with no right to be in the UK".