Police Minister visits 'outstanding' Flint House Police Rehab Centre
Police Minister Kit Malthouse heard about the physical and mental toll policing can take on officers as he took a tour of the "outstanding" Flint House Police Rehabilitation Centre to coincide with the Home Secretary's announcement of a new Police Covenant today (September 8).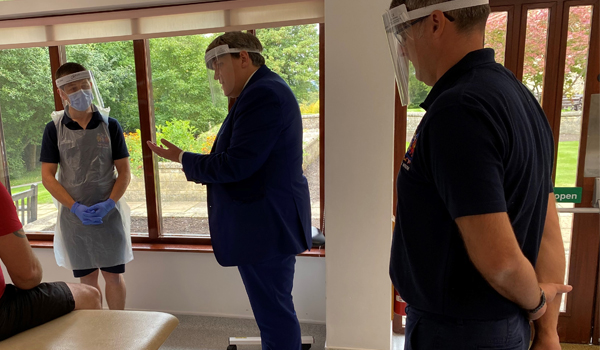 Mr Malthouse spent two hours at the facility in Goring, Oxfordshire, and spoke to physios and police officer patients about the charity's work.
He also saw the charity's new swimming pool facilities – currently under construction – its gym and exercise spaces, as well as the rest and recuperation areas provided for officers.
Despite providing remote consultation during lockdown, the historic Flint House facilities only reopened to police officers this week having been shut for the first time in its 130-year history due to Covid-19.
Described as "policing's best kept secret", Mr Malthouse said it was "a really outstanding facility".
He added: "It underlines the importance that we need to place on police officer physical and mental welfare.
"Here we have an organisation that's been dedicated to that cause for many years and it is expanding its facilities, obviously in the face of growing need.
"Happily, the culture in policing has changed over the past 20 years, to one of 'pull yourself together' to one that is now taking physical, and particularly mental health much more seriously. You definitely see that when you wander around the corridors in this facility."
The pandemic has meant donating police officers needing physical and psychological support could not attend the centre, set in the Oxfordshire countryside, in person.
Usually some 3,500 police officers from more than 29 police forces across England and Wales attend Flint House each year. To be eligible for attending the centre, officers donate £1.70 a week.
Mr Malthouse said: "Policing has become a very different job over the past 20 to 30 years. It's much more stressful, there is much more opportunity for injury and problems physically, and indeed the trauma that can lead to mental health difficulties. The need for this facility is growing because of those reasons.
"It's a great facility, the only negative I've heard is that a reducing number of police officers are supporting this charity through the quite small weekly donations, and of course the moment you want to start paying those subscriptions sadly might be the moment that you need this facility and so it would be great to see those numbers grow so the facilities here can remain in 'tip top' shape to help."
During the Police Minister's visit, Mr Malthouse heard from the Charity Trustee chair, Chief Superintendent Ian Wylie of Avon and Somerset Constabulary, about how the Flint House Charity is completely funded from officer donations – and how the wider service and government should consider financially contributing towards the charity, and therefore officer welfare.
Chief Supt Wylie said: "It's great to have welcomed Kit Malthouse here to understand and experience what Flint House is all about and how it contributes to police wellbeing.
"It is worth adding that the cost of this centre is funded entirely by donating police officers; we don't receive any additional funding from government or police forces to deliver this outstanding service and it really contributes to other overall offer the police service has across the UK."
During the lockdown, police officers in need have continued to receive Flint House care and support, as some programmes have been taking place virtually with exercise videos and treatments/consultations being shared online via YouTube, Zoom video calls and other channels.
The virtual programmes offered by the centre have been taken up by around 300 officers after a note was published on the Flint House website inviting existing patients and new patients to take part.
Flint House chief executive officer Tom McAuslin said: "It was great to have the Police Minister come to see us at Flint House and discover for himself policing's best kept secret. And that's our goal, to reveal this secret and how we play our huge part in getting police officers back to work and physically and physiologically better."
Home Secretary Priti Patel said the new Police Covenant would increase protection and support for officers and staff.
It makes specific reference to making sure police officers, staff and their families are not disadvantaged.
The agreement would create a statutory duty to support the police, and would require the Home Secretary to make an annual report to Parliament on its use.
It would apply to current and retired officers and staff, in both paid and voluntary jobs.